Good Deeds from Harper's Bazaar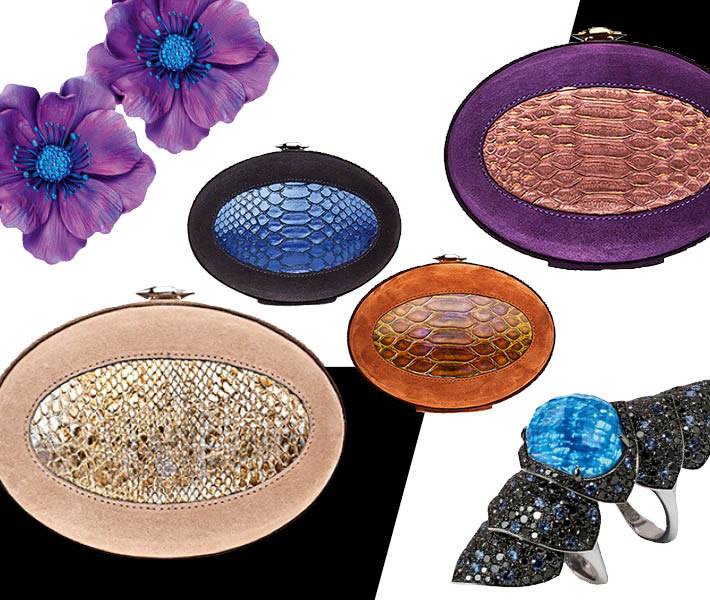 Harper's Bazaar magazine invites readers to participate in its Charity Bazaar program. To take part, buy a Stephen Webster ring, Why Not Sky earrings or one of four Caroline de Marchi clutches.
The Stephen Webster Deco Haze ring is a one-off production sold at the brand's boutique at 21/13 Malaya Bronnaya Street in Moscow. The ring is crowned with a black opal mounted on a 14.22 carat quartz. The Why Not Sky earring clips from the limited Jardin collection are hand-crafted from titanium and virtually weightless. They went on sale in the Aizel boutique in Moscow at 11 Stoleshnikov Pereulok, Bldg. 1, and on the Aizel.ru site at the same time the December issue of Harper's Bazaar was released. The French brand Caroline de Marchi created an exclusive line of suede clutches especially for the Bisou By Me boutique at 21 Petrovsky Bulvar in Moscow. The clutches feature python skin insets and a lip-shaped clasp. The creators have offered the first clutch produced in each color for the Charity Bazaar.
The proceeds from all sales will go to the Lifeline, Peace Planet and Naked Heart charitable foundations.
Harper's Bazaar — fashion without rules!