Cosmopolitan in January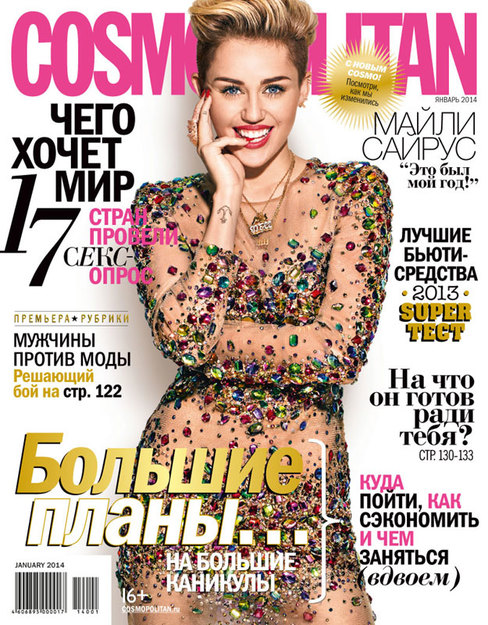 The brilliant and inimitable Miley Cyrus graces the cover of the January issue of Cosmopolitan magazine. The singer and actress — who managed to dazzle the world with her performance at the 2013 MTV Video Music Awards, record several hit songs, split up with Liam Hemsworth and much more — talks about her plans for the coming year. Also in this issue:
On the right foot: How to spend the first days of the New Year in order to have success in each area of your life over the next 12 months;
Your pick: eight ways to entertain yourself this winter;
Girl Power: How to become a Cosmo agent and realize your dreams with Cosmo in 2014;
What he'll do for you: an open letter from men who are ready to work on relationships;
Men vs. Fashion: what men think about fully-dressed women;
More with less: how to avoid unnecessary spending during the holiday season;
Here to stay: testing the best beauty products of 2013;
The new "You wear trends" style column: It is now even easier to become a heroine and appear on the pages of the magazine;
Bonus: What the world wants — the editors of 17 editions of Cosmo in 17 countries answer questions about sex.
This issue also includes an interview with Mark Bogatyrev, a review of January's 20 main events in film, TV series, concerts and festivals; must have fashion items in the coming season: plaid, sweatshirts, coats, shoes, bags and masks. And only in Cosmo – "The Five Rules of Detox by Irina Ortman": the singer explains how to stay in great shape after the holidays.
The January issue of Cosmopolitan will go on sale December 10.