Grazia Editorial Board Goes Offsite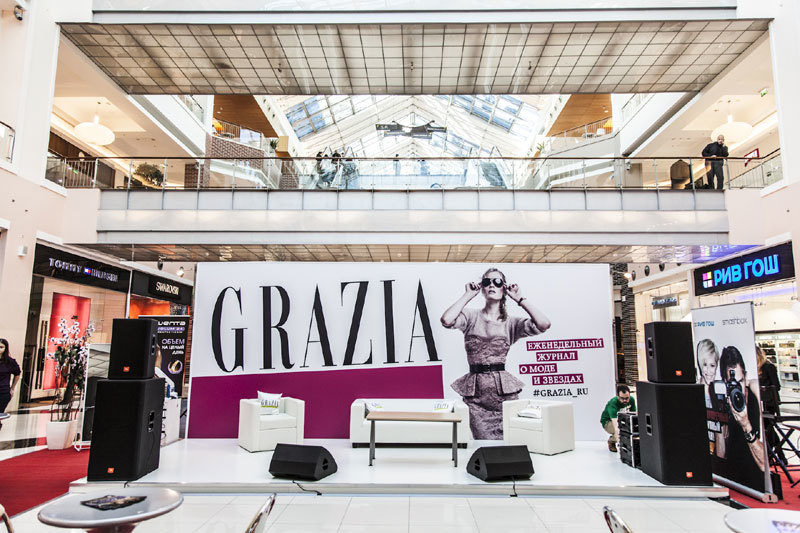 For the third year in a row, Grazia magazine editors set up shop for three days in the Metropolis shopping center. From Jan. 31 to Feb. 2, shoppers could stop and observe how the staff creates the glossy weekly.
Grazia editors worked inside a glass cube erected in the shopping center atrium, allowing passersby to see them preparing the next issue right before their eyes. Guests witnessed the editorial board at work under the supervision of Grazia editor-in-chief Alena Peneva, as well as photo shoots and interviews with celebrities. The celebrities were also happy to sign autographs for anyone who asked.
Guests enjoyed a non-stop program full of surprises, including cooking classes taught by Italian chefs Uilliam Lamberti of Uilliam' restaurant and Pietro Rongoni from Aromi la Bottega, beauty workshops by Will Malerb, the main make-up artist for Smashbox in Europe, the Middle East and Africa and Rowenta hair stylist Regina Bogdanova. Throughtout all three days, special beauty zones provided guests with an opportunity to test new products from both brands and "try on" the new looks on display. They also used Rowenta styling tools to make original hair styles for themselves.
Masterpiece brand designer Yevgenia Linovich taught jewelry-making and the magazine's editors helped choose an appropriate outfit for a date. Guests could also attend a talk by Palitra Pitaniya Center nutritionist Elena Muzyka, prepare for a job interviewer with recruiter Alexei Goryunov and learn where to find true love from Mechta personal development center trainers Alina Burova and Nadezhda Krugova. Also, guests could look for a significant other with a Speed Dating service.
Over the course of the three-day project, Grazia style editors tagged individual store items from the latest collections with a special "Grazia Choice" sticker to help Metropolis shoppers navigate the variety of products offered by the many stores.
The celebrity guests who visited the off-site editorial board included Igor Chapurin, Natalia Podolskaya, Yulia Kovalchuk, Svetlana Ivanova, Anfisa Chernykh, Elena Podkaminskaya, Milana Korolyova, Snezhina Kulova, Elena Lents, Maga Umkhayev, Pasha Bobrov, Sofi Eliseyeva and Sonya Karpunina. Golos project participant Eteri Beriashvili also provided musical entertainment for guests as part of the Grazia "mobile edition."
Find detailed coverage of the event on the graziamagazine.ru site, and videos of the action on the Grazia channel on YouTube.