Harper's Bazaar in March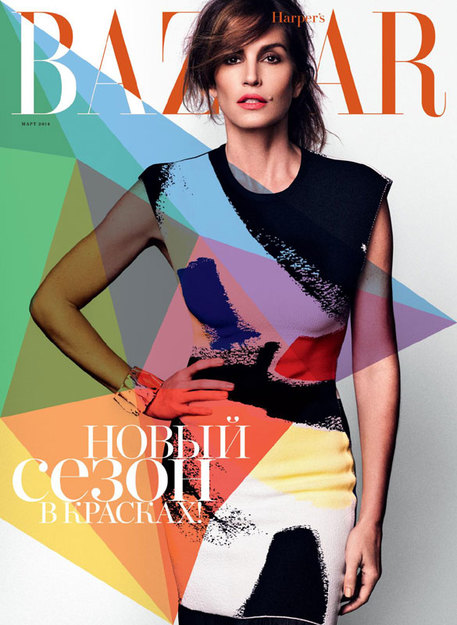 The March issue of Harper's Bazaar magazine looks at the colors of the new season. Readers will find:
Ideal: Cindy Crawford sports monochrome outfits in a fashion shoot for Harper's Bazaar;
According to Carine: a Carine Roitfeld photo shoot showcases the main trends of the season;
Art in motion: designers draw inspiration from artworks;
The call of the jungle: African culture reflected in spring-summer collection prints;
Sleight of hand: ironic outfits and jewelry by Natalia Zinko;
Nothing to hide: a new look at the Bazaar editorial board;
Crazy in love: now everyone who loves the psychedelic art of the 1960s has a reason to express their feelings to the fullest;
Waiting for Hamlet: Yulia Snigir talks about her movie roles and why she has not been invited to perform on stage;
Why not try…? Designer Mary Katrantzou offers tips on how to add variety to your life in March;
From A to Z: new fashion terminology – enrich your vocabulary and your wardrobe;
Flash: the hottest parties according to Harper's Bazaar.
The regular Charity Bazaar column features this month's lots: handmade Frozen Fly necklaces that Sicilian Roberto Ferlito created for his Schield Collection brand (on sale at the Bisou By Me boutique); Sarah's Bag clutches made by Sarah Beydoun of Beirut (available exclusively at the Beryozka multi-brand shop); a yellow gold ring with diamonds from J-Point Selection (found at the J-Point boutique in the Vremena Goda galleria). Proceeds from sales of the items will be donated to the Lifeline, Peace Planet and Naked Heart charitable foundations.
The March issue went on sale Feb. 18. The magazine is also available in a version for the iPad.
Harper's Bazaar — fashion without rules!