Cosmopolitan: Women Who Moved the World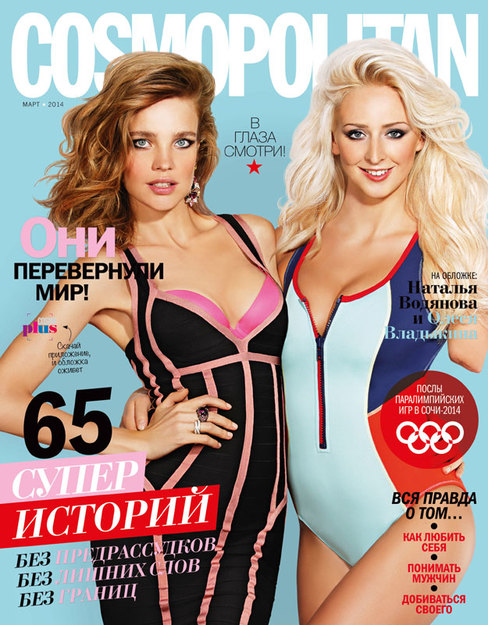 In the lead-up to the Winter Paralympic Games in Sochi, Cosmopolitan magazine invites readers to reconsider their standards of beauty, break commonly accepted stereotypes and reflect on the importance of striving to achieve your dreams. The March issue features the bold project "Look Me Straight in the Eyes!" and includes Paralympic champion Olesya Vladykina and model Natalia Vodianova on the cover.
The March issue of Cosmopolitan presents a special project: An inverted section focusing on a very important topic not usually found in glossy magazines — stories of women with disabilities and their faith in their own strength and will to win. Through personal example, these women show the importance of good deeds and maintaining a passion for life.
Paralympics swimming champion Olesya Vladykina offers her definition of beauty and a true will to win. She provides a vivid example of how, by striving to win, people with physical limitations keeps heart and try to participate in a full range of socially significant activities.
Paralympic Games ambassador Natalia Vodianova explains in an interview why she chose the Paralympics and why she likes to support people who retain their joy for living despite formidable difficulties. Vodianova's Naked Heart charitable foundation has already helped hundreds of children.
A special section devoted to women who have moved the world looks at the stories of seven female Paralympic athletes: Beatrice Vio (fencing), Tatyana McFadden (wheelchair sprint), Yulia Batenkova (biathlon, cross country skiing), Michelle Stilwell (biathlon, wheelchair sprint), Mikhalina Lysova (biathlon, cross country skiing). Each of the seven sets an example for courage as well as faith in miracles and in their own abilities. They prove that nothing is impossible, and that only we impose limits on what we can do.
Reach the March issue of Cosmopolitan and get inspired by these stories of women who triumphed over difficulties.
A video from Cosmopolitan's March issue cover shoot is also available for viewing.