Grazia at Fashion Week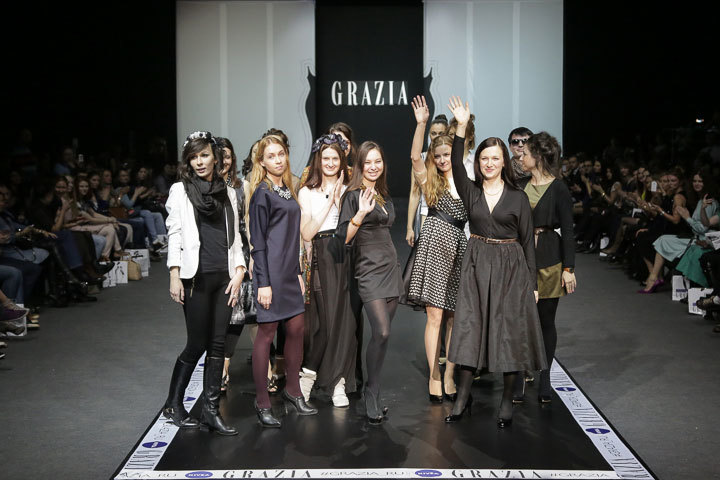 The works produced by the finalists of Grazia magazine's Young Designers contest were featured in a fashion show on April 2. The 15 best entrants as chosen by an expert jury put their creations before the discerning eye of the public. Participants submitted designs in two categories — The Great Gatsby and a special category sponsored by Nivea: Black & White.
The finalists include Marina Deikun, Sofia Gritsyuk, Olga Chornous, Anna Makarenko, Ekaterina Abramova, Ekaterina Vasilyeva, Alexandra Piskunovich, Svetlana Kislova, Sergei Sysov, Anastasia Munkueva, Valentina Neborskaya, Viktoria Anoka, Galina Yefimova, Sofia Dolganovskaya and Anastasia Yemelina. The young designers really outdid themselves. Practically every dress in The Great Gatsby category was a true work of art reflecting the painstaking work of the young talents who hand-sewed each of the decorative stones and beads onto their creations. The outfits in the Black & White category amazed everyone with their intricate designs and geometric prints.
Yevgeny Vlasov served as stage manager for the show and Maybelline NY make-up artists under the direction of Yury Stolyarov provided the make-up. Redken 5th Avenue stylists provided the luxurious 1920s-style hairdos, and the Centro brand provided the footwear for the show.
All of the finalists' works will be displayed in the Modny Sezon (Fashion Season) shopping gallery in late April. As general partner, Nivea will choose the three top finalists in the Black & White category and present each with special prizes.