Cosmopolitan in May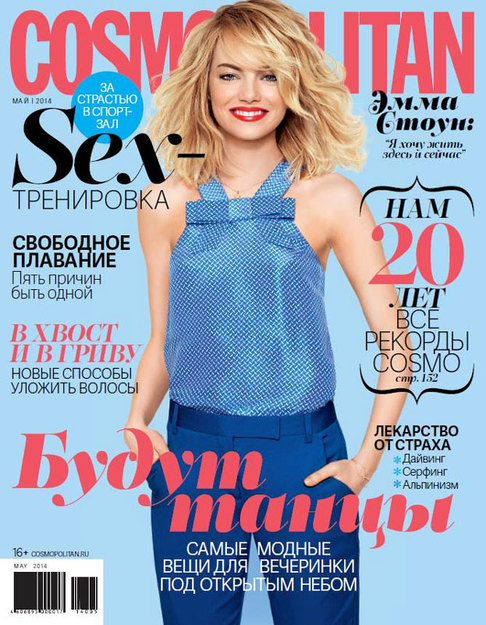 The top story in the May issue of Cosmopolitan is "Let's Dance!" — material about the most fashionable clothes for open-air parties and the world's best music festivals and how "our ladies" look when they attend.
Also in this issue:
We're 20! The first Russian edition of Cosmopolitan magazine appeared exactly 20 years ago, in May 1994. The 20th anniversary is a perfect time to remember all the records Cosmo has set.
Free agent: Five reasons why it's great to be single.
Cover girl Emma Stone: "I want to live here and now!"
From tail to mane: new ways to style your hair. Seven simple and spectacular hairstyles for long hair.
The all-Russia Cosmo agent movement: the best events of the month and new goals to help the young women achieve their dreams.
Fascinating travel section: Find out who's sitting next to you on the airplane; check out the world's most unusual hostels; basking in the Dominican sunshine; come on board a cruise liner and find the perfect country guide.
The cure for fear: diving, surfing and mountain climbing.
Tips from a former female secret agent on how to detect lies.
Love stories that begin with a conflict.
Beauty tips for bridesmaids.
Interviews with Simon Baker and Yury Kolokolnikov.
The issue went on sale on April 8.