New Issue of Harper's Bazaar Art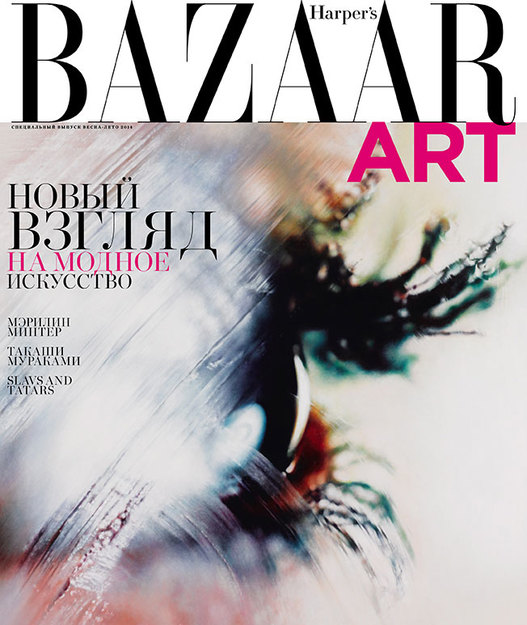 The new issue of Harper's Bazaar Art, the magazine about contemporary art, is now on sale. U.S. artist Marilyn Minter, who created the cover, invited a Harper's Bazaar Art correspondent to her New York studio where she gave a candid interview.
Another New York address is the Mint & Serf graffiti studio on Broadway where a photo shoot featured the hottest outfits of spring-summer collections. Famous artists also created designer projects especially for the magazine. Takashi Murakami made his debut as a portrait painter with a series of works capturing the most successful designers of our time. Arkady Nasonov drew a set of avant-garde tarot cards for Harper's Bazaar Art depicting luminaries of Soviet art and science from the 1920s-1930s.
In his first interview with a Russian publication, 56th Venice Biennale curator Okwui Enwezor answered questions from Harper's Bazaar Art. A special section is devoted to Great Britain: designer Alice Temperley paid homage to the artists and artworks that inspire her, director Peter Greenaway explained why he has referred to himself as a multimedia artist in recent years and Roche Court sculpture park curators talk of their unique outdoor collection. In addition, readers will find an art guide to London and a vocabulary primer for the auction business.
The issue also looks at the Slavs and Tatars art group that will participate this summer in the 10th Manifesto Biennial of Contemporary Art in St. Petersburg, Belgian artist Wim Delvoye, whose exhibition will be held in the Garry Tatintsian gallery and at the owner of the Regina gallery in Moscow, Vladimir Ovcharenko, who is developing a new project, the Vladey auction house.