Cosmopolitan in June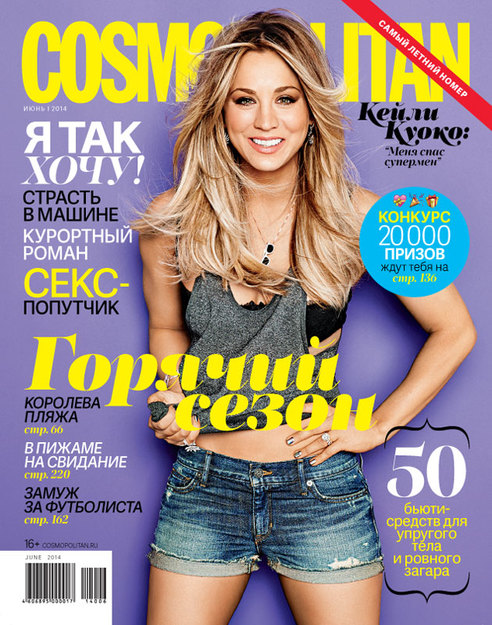 Actress Kaley Cuoco appears on the cover of the June issue of Cosmopolitan, in which she tells readers her personal "Great Happiness Theory." This issue also launches a four-month contest in honor of the magazine's 20th anniversary in Russia. Readers will receive 20,000 prizes in the competition.
The first issue of summer also includes:
The hot season: 50 beauty products for a supple body, an even tan and the most stylish swimwear for the 2014 beach season;
Betting on the game: How to survive the World Cup and marry a football player — an interview with Alexander Kokorin;
Holiday romance: what to expect from new acquaintances;
National movement: Cosmo agents and editors' best events and tasks for the young women;
Fashion trend: Pink is the most romantic color this summer; pastel hues and how to wear wide slacks;
Beauty tips: the celebrity style of Leighton Meester;
In his head: "What men say and what they actually mean";
Lily Collins: "I am an ordinary girl and don't want to portray anybody when I'm not playing a role."
The issue went on sale May 13.