Popular Mechanics Invites Readers to the Robot Ball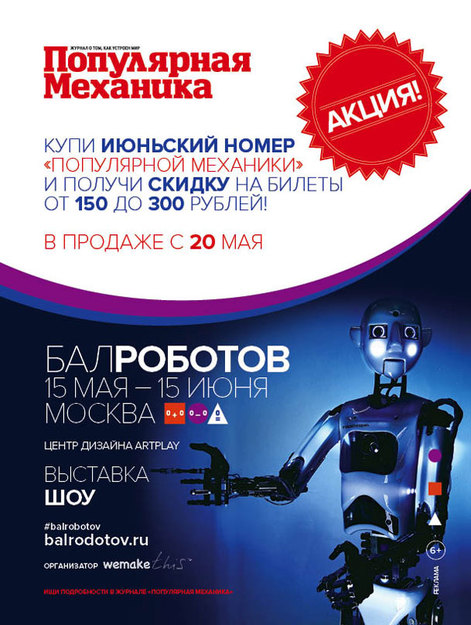 Popular Mechanics magazine has prepared a surprise for readers. Everyone purchasing the June issue will receive a discount for the exciting Robot Ball exhibition and show.
The discounts will save them 300 rubles on a family ticket, 200 rubles on adult tickets and 150 rubles on children's tickets. Details are available in the June issue of Popular Mechanics.
The Robot Ball is held at the Artplay design center in Moscow from May 15 through June 15. The most famous robots of the world will visit Moscow for a limited, one-month engagement. This exhibition/show includes several events that will interest both adults and children. The interactive robot exhibition — staged in an over 2,000 square meter space — is a real "robo-revolution," with the English humanoid robot Thespian stealing the show. The Robot Ball interactive and educational program provides visitors with the chance to try their hand as engineers in a real robot laboratory with a 3D printer.