Cosmopolitan in July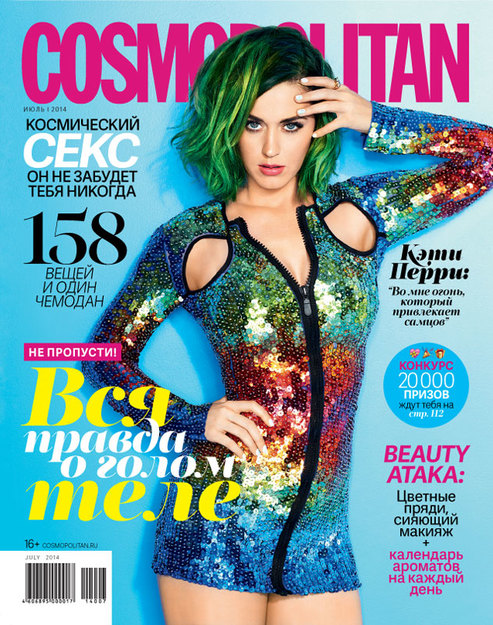 "The whole truth about the naked body" is the feature story in the July issue of Cosmopolitan magazine, where readers will learn the right way to treat their body, what men think of when looking at the nude female figure and why people in different professions take their clothes off. For the story, the author also participated in an art project – a nude photo shoot.
The cover features the easy-going, dazzling, uninhibited and sexy singer Katy Perry. In this issue she shares her personal stories of love, what she thinks about before going onstage and the qualities she likes in a man.
Also in this summer's hottest issue:
An interview with the talented and incomparable Solange Knowles in which she explains how she found her own path and stepped out of her sister's shadow, how she became a caring mother at 17 and how she thinks one can still draw inspiration from a mundane life;
Beauty tips: the inimitable style of Jessica Alba, Diane Kruger's fashion choice, Toni Garrn on how and what to wear in order to become Leonardo DiCaprio's girl;
This season's trends: bright and colorful tresses like Katy Perry's, radiant make-up, seductive and fresh aromas to wear every day, bikinis in summer colors, multi-colored lace and sea-themed ornaments;
How to become the queen of the beach: video fitness courses with popular Hollywood coaches, which berries will help you lose weight and advice from Prince Charles' physician Dr. Ali;
Ravshana Kurkova: using chess strategy in real life;
In his head: Andrei Burkovsky (Danil from the TV show "Dayesh Molodyozh") turns out to be an exemplary family man who at 30 combines work on several television projects with raising his children and performing in the theater;
On the road: pack all of the most necessary items in a single suitcase – a ready-to-go summer selection for every day, the best way to relax in Monaco and which unusual souvenirs to bring back from vacation;
The competition continues: the magazine turned 20 and readers will receive 20,000 prizes.
The July issue went on sale June 10.