Harper's Bazaar in August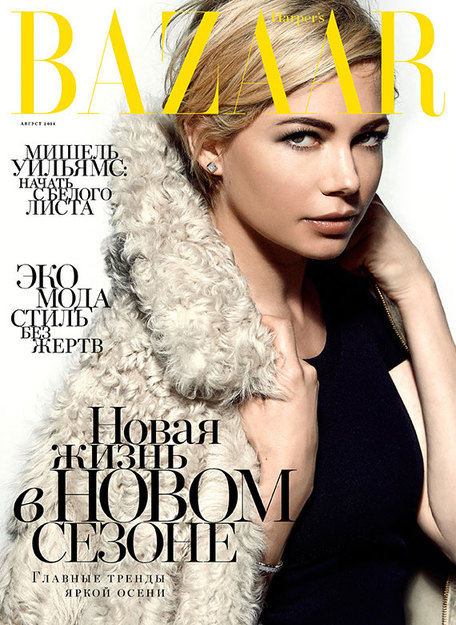 Actress Michelle Williams graces the cover of the August issue of Harper's Bazaar. In this issue:
A new start: actress Michelle Williams on how to start from a clean slate;
Winds of change: all the major trends of the new season;
The joy of life: supermodel Miranda Kerr on motherhood and her relationship with Orlando Bloom;
Wild heart: a tour of Philipp Plain's villa in Cannes;
Signs of distinction: how earrings can transform your whole image;
Good going, Giorgy!: Grigory Dobrygin continues to storm acting and directing's Mt. Olympus;
Sea of sun: how to say goodbye to summer with beauty and grace;
Flash: the hottest parties according to Harper's Bazaar.
The August issue also includes the traditional Charity Bazaar column featuring items donated to raise money for children in need. Potential buyers can look forward to a Cheer Pandora clear plastic clutch by Charlotte Olympia and sold in the aizel.ru boutique, vintage earrings by JL Blin Paris in the form of ancient amphorae and sold at Galerie 46 in St. Petersburg, and a ring from the Alexander Arne jewelry house that was created from a sketch by Alena Akhmadullina and sold in the Vremena Goda (Four Seasons) boutique. All proceeds from the sale will go to the Lifeline, Peace Planet and Naked Heart charitable foundations.
The August issue went on sale July 15. An iPad version of the magazine is also available.
Harper's Bazaar — fashion without rules!