Cosmopolitan in October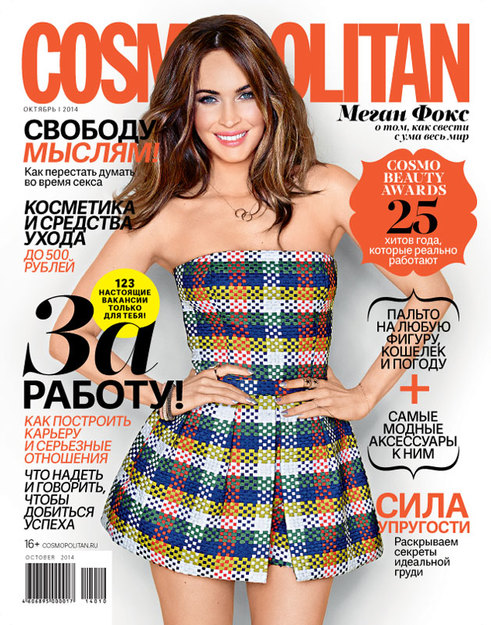 The main theme of the October issue of Cosmopolitan magazine is "Get to Work!" Fall is in full swing and that means it is time not only for studies, but also for work. The magazine's editors have also prepared a special project that offers readers more than 100 real-life job vacancies in a wide variety of fields in cities across Russia.
Also in this issue:
Cover girl: Megan Fox shares her secrets on how to make the world go crazy for you and how to make men adore you, and how to rekindle passions after marriage;
How to build a career and a serious relationship: a win-win strategy from an expert in effective communication and a specialist on interpersonal communication;
Cosmetics and personal care products: decide what to save money on and which beauty products are worth paying more for;
Cosmo Beauty Awards: 25 hits of the year that really work;
Bosses in skirts: female executives at leading companies explain how to find a job, build a career and succeed in spite of stereotypes;
Skin deep: how discrimination based on personal appearance hinders young women from advancing in their careers;
Scandalous Elena Letuchaya: the television host talks about the intricacies of her difficult work, how to fight for consumers' rights and the most exciting moments filming the Revizorro program;
Shoulder high: choosing a coat and matching it with your clothes;
Don't waste time changing clothes: fashion experts explain how to choose clothes that look right at work and at parties;
The Cosmo generation: women who inspire pride –professional triathlete Maria Lemeseva, actress Olga Kurylenko and designer Kira Plastinina share their secrets for professional success;
Sex without hang-ups: think freely in bed and forget your doubts and hang-ups;
Choosing between family and career: real-life stories of women explore whether it's possible in today's world to combine and find a balance between family and career;
Interview: Sergei Prikazchikov from the group Pizza tells Alexandra Belyakova how the group got its name and about his own path in music;
Pretty pair: everything about how to have a beautiful bosom, the secrets of choosing the right bra, the need for regular breast exams and the whole truth about breast correction.
The issue also includes an article on the magazine's 20th anniversary with reports from Novosibirsk, Yekaterinburg and St. Petersburg along with the best photos from those celebrations.