New Issue of Harper's Bazaar Art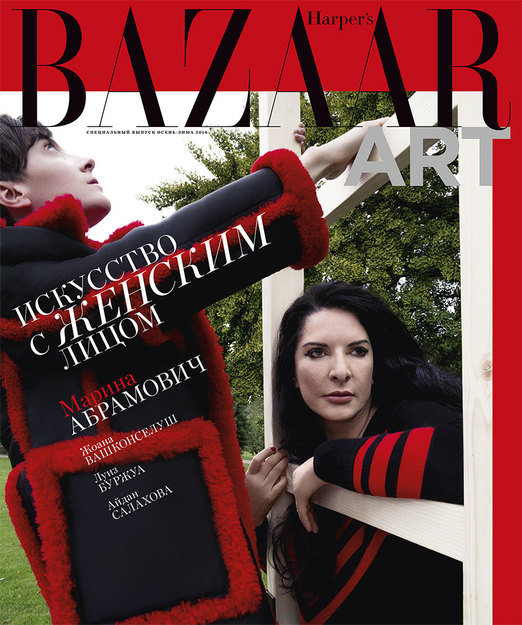 A special edition of the fall-winter 2014 issue of Harper's Bazaar Art was released on November 4. The issue is devoted to art with a woman's face: the talented, vibrant and powerful artists and muses of our time.
In this issue:
Marina Abramovich: "My whole life is one big contradiction." A performance institute without walls, her dream project and why she no longer wants to provoke the public.
The baroque feminism of Zhoana Vashkonselush: "I am not an expert on feminist theory, but the question of gender equality is very important to me. Traditions and handmade work, open space and the exchange of ideas are all connected."
Louise Bourgeois, her life and work – recurring themes and an inescapable web of emotions. Sculptures hanging from the ceiling, pictures and objects made from fabric – a gallery displays the artist's later works and a New York studio prepares to become something of a house-museum.
Naomi Campbell as nude model, nudity as a hobby and a book without words as a source of wisdom – Aidan Salakhova told Harper's Bazaar Art how she is preparing for an exhibition at the Saatchi Gallery.
Cicciolina 18+. On her favorites artists and her complex relationship with Jeff Koons.
The Flacon design factory: A look at how artists, designers and sculptors who create the bottles for popular fragrances literally diffuse art to the masses.
Under full sail: the Bois de Boulogne regains its former glory as a cultural power center.
A tour of the new Louis Vuitton Foundation in Paris designed by U.S. architect Frank Gehry that promises to become a new major attraction.
With what does the Motherland begin? The Russian art of Dmitry Gourji, his home furnishings and the accessories of his Gourji brand speak with equal force about his interest in Russia's past and his love for new art.
Out of the shadows. At the request of Harper's Bazaar Art, artist Mikhail Molochnikov created the exceptional settings that famous jewelry house products deserve. Strokes, lines and points catch the eye like complex gem facets. And not without reason: in his hands, the shadows of the jewelry turn into drawings that resemble Australian aboriginal art. 
Altered state. The modern sculpture of Belgian artist Wim Delvoye and models in the iconic outfits of the season that designers are comparing to the masterpieces of the Pushkin Museum.
Permanent residence permit. Anatoly Zverev opens a private museum in Moscow.
Newcomer. The most memorable reincarnations of Andrei Bartenev.
Harper's Bazaar Art – a new look at the art of fashion!