Popular Mechanics in December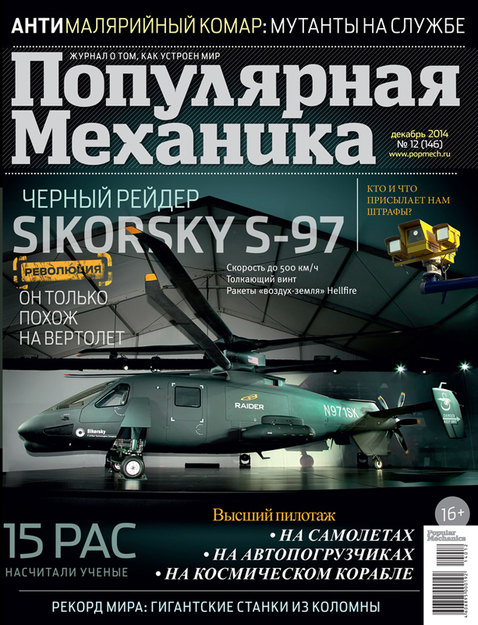 The new multi-purpose Sikorsky S-97 Raider helicopter replaces its legendary predecessors. Read about the aircraft that represents a new stage in the history of helicopter construction in the December issue of Popular Mechanics magazine.
Genetic engineering will become accessible for everyone in the near future. In the Science section, the article "The world of winning biotechnologies" reveals that one day it will be no more difficult to produce animals and even hybrid creatures with machines than it is to assemble a computer. In the Technology section, the article "Space engineers" looks at one of the most interesting achievements of 2014 – the successful flight of the Ladee lunar orbiter.
In the Weapons section, the article "Pilots? Soldiers? Gamers?" examines how moral and legal issues, not technical considerations, could prove the greatest obstacles to the development of fully automated drones.
In the Workshop section, learn to build with kinetic sand. Ordinary beach sand is good for building castles only when sand is wet, but there is a material that is always suitable for use in construction anywhere in the world.
In this issue:
Nobel Prizes;
Race: separate or mixed;
In the image of;
Everyone can get smarter;
Printing a car;
The return of heavy metal;
The energy of air;
Free flight;
Ned Kahn's manageable tornado.
The December issue went on sale on November 25. The iPad version of the magazine is available in the App Store and the PDF version from Zinio.