Cosmopolitan in February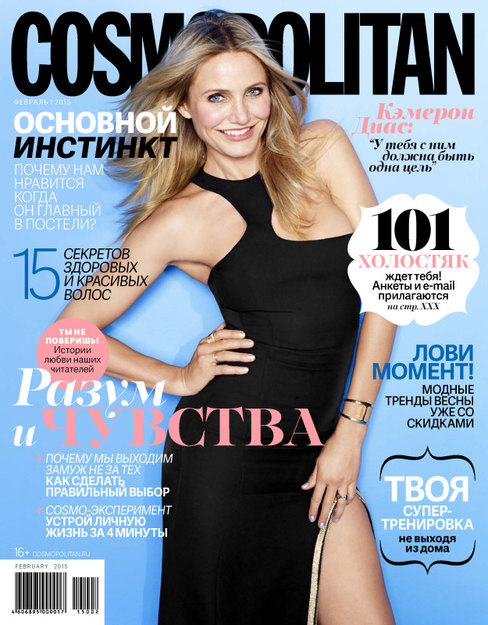 The new issue of Cosmopolitan magazine is all about love. The magazine has assembled dossiers on 101 eligible bachelors and is inviting readers to send emails to the men of their choice. This magazine also contains articles explaining how to make the right choices, reconcile your decisions and build the perfect life.
Also in this issue:
Cover girl: candid and alluring Cameron Diaz reveals the secret of happy relationships;
Why we choose unsuitable partners: five simple rules for avoiding this mistake;
Cosmo experiment: editors try speed dating - Can one really find happiness in four minutes?
In his mind: actor Andrei Merzlikin discusses the place of women in society;
Seize the moment: spring trends at winter discounts – outdress your girlfriends and save money at the same time;
Instinctual urges: why, even in the era of feminism, we like it when he takes charge in bed;
The stars aligned: an exciting love story from a Cosmo reader;
Beauty: this month's beauty discovery and 15 secrets for healthy and shiny hair in which experts dispel popular myths;
Under your own steam: functional workouts at home;
The power of the ring: a roundtable of experts from different fields discuss marriage in today's world.
The February issue went on sale January 20.