Popular Mechanics in February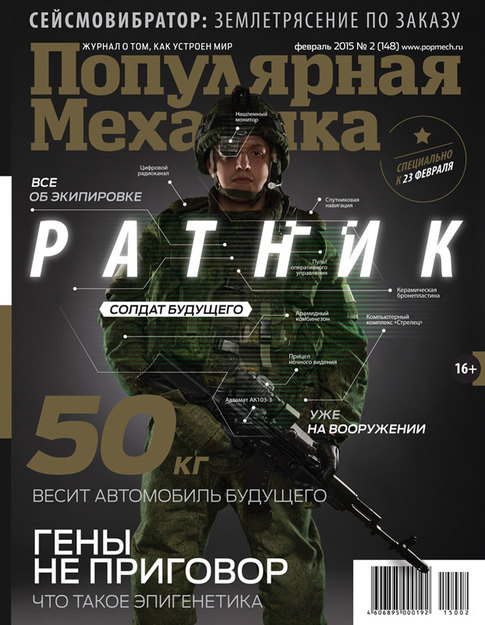 The Ratnik battle suit is one of the Russian Army's most ambitious modernization projects. One of its many advantages is its flexibility and versatility: the armor functions equally well in extreme Arctic cold or tropical heat. Find more details about the battle suit in the latest issue of Popular Mechanics magazine.
Very little is known about magnetic monopoles. Different theories draw very different conclusions about their characteristics and opinions vary even among those who have the same basic approach to the subject. Learn more in the Science article "Half a Magnet."
In Technology, "An Arena for Grand Football" explains how Russia will build one of the world's most high-tech sporting structures by 2016, adding one more embellishment to the shore of its northern capital, St. Petersburg.
In the Weapons section, read the article "Apocalypse in Dresden" about the February 1945 bombing of that city that was one of Germany's worst World War II tragedies.
As everyone knows from the "Back to the Future" movie trilogy, we should all be wearing weird clothes, flying in cars fueled by garbage, watching the holographic "Jaws 19" in movie theaters, and most importantly, flying about on skateboards that hover a few inches above the ground in 2015. In the Workshop column, the article "Back to the Future" looks at a hoverboard that can do just that.
And in Adrenaline, learn how to navigate across mountains in snowmobiles.
In this issue:
The new ABCs of life;
How to smuggle oil;
Deepwater bestiary;
Lighting a laser in the heavens;
Luxury-class ferry boats;
Shaking earth;
Survive in crowds;
Driving in the future;
Queen of global politics.
The February issue went on sale January 27. Download the iPad version from the App Store.