Cosmopolitan in March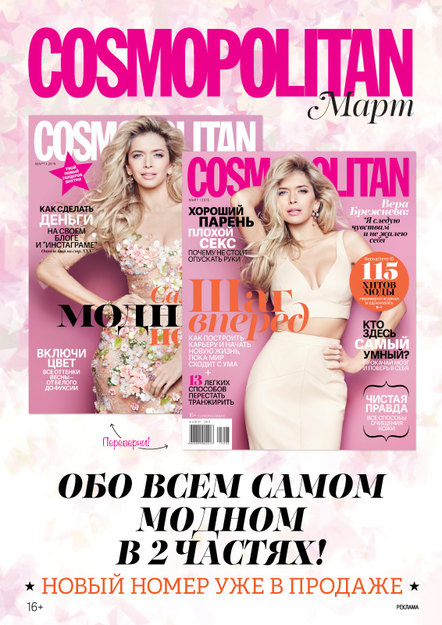 The crisis is no reason to fall into depression. Experts have long argued that an economic crisis is actually the best time for people to do something new with their lives. For example, taking up a new hobby and turning it into a profitable business. The spring flip-flop issue of Cosmopolitan magazine includes a bonus fashion section and will inspire readers to accomplish daring deeds. Learn how to get through difficult times, turn stumbling blocks into stepping stones and how to become more successful, beautiful and happier. The magazine also has advice on how to save money this season.
In this issue:
Singer Vera Brezhneva – Is her greatest strength her beauty, energy or ambition?
Fall guy: what to do if a great guy is no good in bed;
Instagram as a business tool: don't stop with selfies – start earning money;
20 habits to increase your happiness during hard times;
Actor Danil Kozlovsky explains what he finds attractive and unattractive in women and how a girl can win his heart;
Beauty trends: new skin-cleansing methods.
Readers will also receive a special Cosmo gift: an exclusive excerpt from "The Body Book" by Cameron Diaz.
The March issue went on sale February 17.