Popular Mechanics in March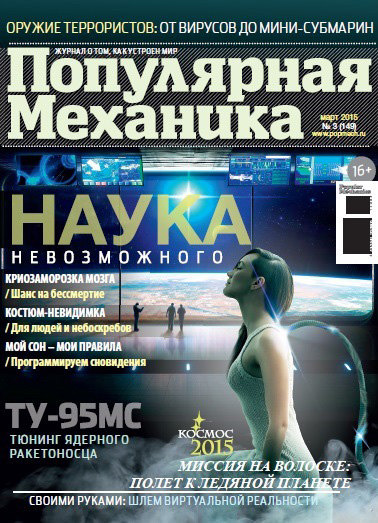 The March issue of Popular Mechanics magazine takes a look at invisibility caps, which happens when the ring structure of a metamaterial with a negative refractive index causes electromagnetic waves to bend around an object located at its center.
The Science section features "The only chance for immortality," a story about cryonics – one of the most controversial fields in science that many refuse to accept as true science. In Technology, read about Kazan's role as Eurasia's breadbasket. Also, explore everyday cuisine – the world's largest research institute where countless experiments are conducted every single day.
The article "The technology of terrorism" in the Weapons section explores the criminal mind and combat methods used by terrorists. In the Workshop section, the story "Cardboard reality" explains how an ordinary smartphone can be converted into virtual reality glasses.
Also in this issue:
Steel without spots: the invention of stainless steel;
The most human-like bot: the little Jibo robot expresses unbelievably realistic emotions;
Life where cylinders meet: avant-garde architecture monument the Melnikov House's new life as a public museum;
Gadgets in the realm of Morpheus: can we completely control the world of dreams?
The antibiotic apocalypse: who will win – people or germs?
The ghost destroyer: the unusual fate of a warship.
The March issue went on sale February 24. Download the electronic version from the App Store or Google Play.