Spring Issue of Cosmopolitan Beauty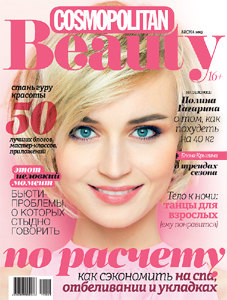 The spring issue of Cosmopolitan Beauty magazine is out. Spring is the time to revive and refresh yourself after a cloudy and gloomy winter. Every young woman needs to look after herself if she wants to look good and feel confident, even in the face of difficulties and economic hardship. The new issue of Cosmo helps readers choose cosmetics and beauty procedures that won't compromise their budgets and offers several useful articles on coping with the crisis. 
Also in this issue:
An interview with Polina Gagarina: The singer shares how she lost 40 kilograms, how she does her own hair and makeup for her concerts and why she is ready to shave her head bald;
Spring-summer trends of 2015 with commentary by makeup artist Elena Krygina – all kinds of braids and hair buns, white accents on eyes and nails, thick eyebrows, brown shadows and transparent, glossy lipstick;
How to cope with embarrassing beauty problems: sweatiness, ingrown hair, hair on the upper lip and other concerns;
Dances for adults: how to overcome your fear of strip dancing;
Catch a wave: how have a fast and easy celebrity hairdo while saving money on a hairstylist; 5 different types of waves – from Hollywood to rocker;
It's temporary: beauty procedures expectant mothers can and cannot do – massages, body wraps, waxing and more;
Whiten your teeth without leaving home: all the ways to whiten your teeth at home without spending a lot of money – caps, strips and whitening kits;
Special section "How to become a beauty guru": the 50 best apps for gadgets, workshops for beauty and more, books on beauty, popular blogs and many other useful tips.
The spring issue went on sale March 3.