Anniversary Issue of Esquire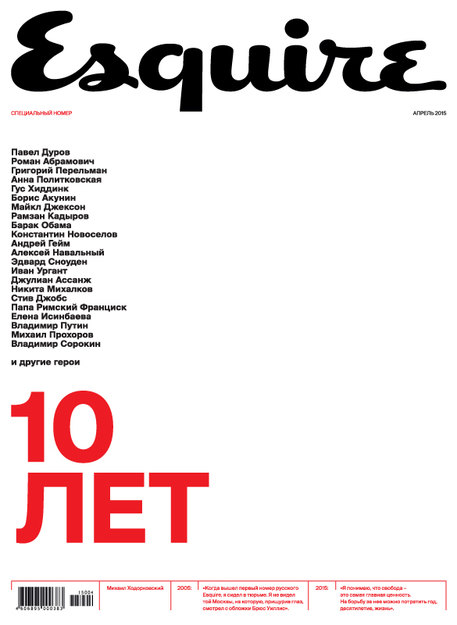 The April issue of Esquire celebrates the magazine's 10th anniversary in Russia and appears for the first time in a new large format.
In this issue, Esquire looks back at the past 10 years and asks the most authoritative Russian authors and public figures – those who define the country's cultural and civic agenda – to recall the past decade. Boris Akunin, Mikhail Khodorkovsky, Konstantin Ernst, Ekaterina Gordeeva, Andrei Loshak, Irina Prokhorova, Yury Saprykin, Vasily Arkanov, Maxim Semelyak, Kirill Serebrennikov and Oleg Kashin describe the events of the year that was most important for them, and the ones that brought major changes to the country and the world.
The issue is divided into 10 blocks – one for each year. Every block opens with a picture by a famous illustrator that depicts the year's major events, followed with an essay conveying the year's prevailing mood and its significance, and accompanied by a timeline of the year's main events. Personal stories are interspersed with public evnts. From sovereign democracy to the first iPhone, from maternity subsidies to the "House, M.D." television series and from the renaming of Russia's police force to Pussy Riot, the last 10 years were rich in events and phenomena. We now perceive many things differently: after all, the 2000s ended in Russia. But without that baggage, it would be impossible to imagine the next 10 years.
Each block closes with a collection of additional materials in a wide variety of genres. Readers will also find the rules of life according to people who played a significant role in this or that year, including Gennady Onishchenko, Yevgeny Chichvarkin, Alexei Kudrin, Pavel Durov, Andrei Geim, Edward Snowden, Timur Bekmambetov and others. Also, a potpourri of interesting facts, figures, ratings and infographics – everything from the slogans of the winter 2011 mass protests to the mathematical formulae of Grigori Perelman.
A large-scale advertising campaign from April 1 to 30 will support the release of the anniversary issue of Esquire. The campaign includes ads such leading radio stations such as Serebryany Dozhd (Silver Rain), Radio Russia, Nashe Radio (Our Radio), Maximum, Monte Carlo, Best FM, Business FM and Kommersant FM, on specialized television channels Moskva 24, 24_Doc, WBC, Sport 1, Sport and Fashion TV, in Formula Kino theaters in Moscow and St. Petersburg and in the Respublika retail chain. Advertisements will also appear in Afisha publications, in Harper's Bazaar and Robb Report Russia magazines, on the websites afisha.ru, newsru.com, sports.ru, while banners and announcements of the new issue will also appear on social networks.