Harper's Bazaar Art Releases New Issue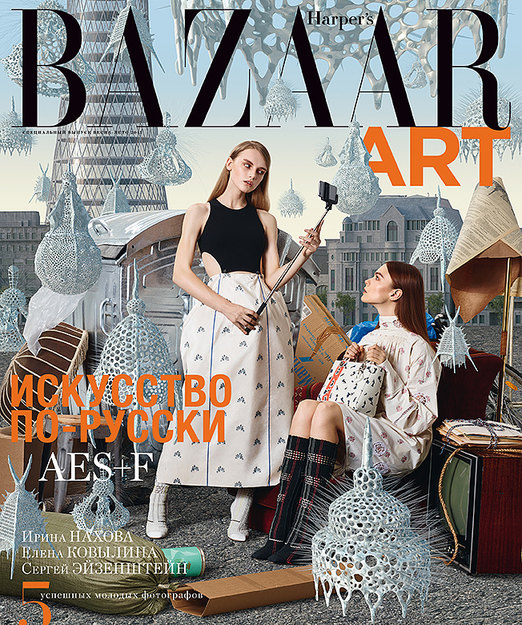 The new issue of Harper's Bazaar Art magazine is devoted to art, Russian-style: the new medieval Russian art group AES + F, the other rules of Marina Loshak, lessons from a performance by Elena Kovylina, an art fair director's secrets of success, the visual reality of young photographers and the Green Pavilion of Irina Nakhova.
Also in this issue:
Upside down: New video installations by the Russian art group AES + F have turned the world upside down in the most peculiar way. Also, Harper's Bazaar Art designers receive an introduction at the Venice Biennale Inverso Mundus project.
Faithful copy: The high-profile opening of the Prada Foundation – a new exhibition space and two unexpected showings of classical art in Milan and Venice.
Major change: Exhibitions and events with unusual formats in Instagram and Pushkin Museum director Marina Loshak opens a new era.
Countdown: The performance school of Elena Kovylina.
So says the Kama Sutra: the sexual evolution of Dorothy Iannone. The artist, fascinated by ecstatic Baroque paintings, erotic Indian iconography and Japanese shunga prints, gained fame as an opponent of censorship and prudishness. She was once unjustly forgotten but is once again taking active part in festivals, fairs and art gallery life. 
Meeting place: The Angela Missoni creative director's striking home interior in Lombardy, where eclecticism is elevated to the rank of art, perfectly expresses the character of the homeowner and the Missoni style.
Photo workshop: From Russia with love – five young photographers in great demand in the West.
The Agra treasures: Indian Ocean finery in a Harper's Bazaar Art photo shoot.
Big Bang Theory: The Esprit Dior Tokyo collection through the eyes of Keiichi Tanaami.
Private collection: The best items from fashion collection at the Moscow Museum of Modern Art.
At your own risk: "I like to photograph the various states of destruction. That's how my brain works." In order to solve the mystery underlying the installations of Cornelia Parker – one of the most puzzling and infrequently reproduced figures in contemporary British art – we go back to the artist's childhood in search of answers.
Word for word: Augmenting our perfume vocabulary.
Daily planner: A guide to the major exhibitions and premieres this season. The transfiguration of Vladislav Mamyshev-Monroe in Moscow, feminist art by Niki de Saint Phalle in Bilbao, modern artists as seen through the lens of David Bailey in Milan, the surreal imagination of Stockholm designers, as well as a skeleton dress by Elsa Schiaparelli and the illusionist fashion experiments of Martin Margiela at the Asylum – Where Fashion Meets Art exhibition at the Stockholm Kulterhuset.
Harper's Bazaar Art – a new look at the art of fashion!