Cosmopolitan in June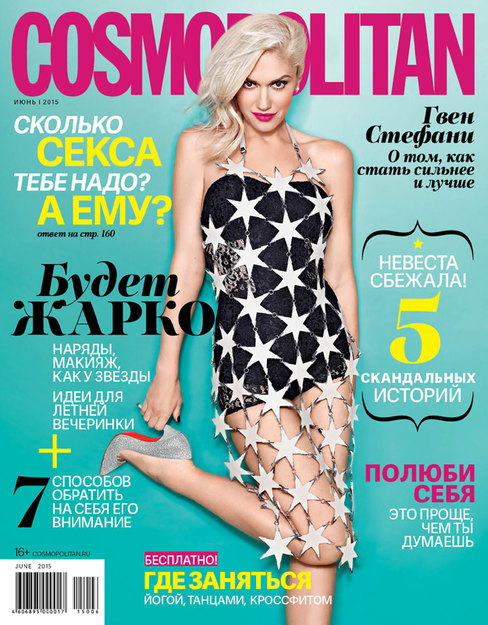 The June issue of Cosmopolitan magazine includes lots of interesting ideas about how to turn the coming weeks into one big holiday, prepare for the hot season and make the most of summer.
In the June issue:
Cover girl: At 45, singer Gwen Stefani's career has reached new heights – a new solo album, appearances on the TV program "The Voice" as a vocal coach and performing with Pharrell Williams and other talented arists;
Runaway bride: they changed their lives at the last moment – five scandalous stories;
Out on the town: what celebrities can teach us about choosing the right outfit;
Interview: Zveri (Wild Animals) soloist Roman Bilyk explains how a young woman should behave if she wants to be truly hot this summer;
All about the sun: top experts answer common questions on tanning and summer skin care;
How much do you need: Figure out the optimum amount of sex for you and for him;
You won't be alone: 7 ways to attract attention and meet men;
In the park: free outdoor workouts – yoga, dance and CrossFit;
Love yourself with all your shortcomings: it's easier than you think;
Come the night: makeup and hairstyles for true party queens;
Summer party ideas.
Readers will also find a special insert in this issue – a guide for brides full of useful tips, leads and passwords to help with the exciting and challenging task of preparing for your wedding.
Also in the June issue of Cosmopolitan, editors invite readers to a fashionable weekend on May 29-31 at the Metropolis mall. Guests will find Fashion Laboratory, which includes a beauty studio, expert lectures and workshops, interactive events with famous brands and a professional photo session.
The June issue went on sale May 19.