Domashny Ochag in June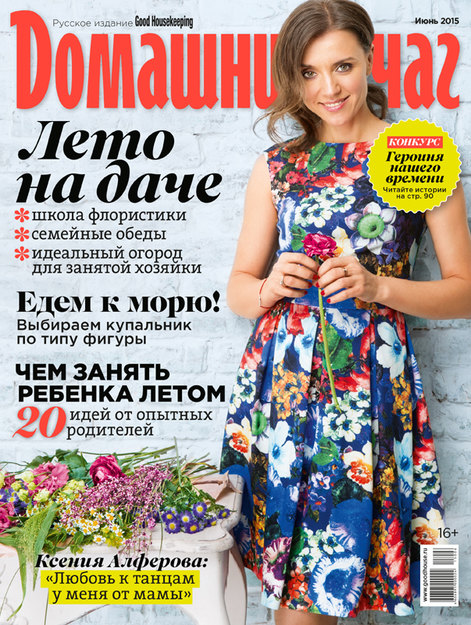 The June issue of Domashny Ochag magazine offers readers loads of useful information on how to prepare for summer: choosing the right bathing suit to suit your figure, recipes for light lunches and tasty breakfasts, dacha tips – a school of floristry and the perfect garden for busy housewives – and experienced parents explain how to keep your child occupied this summer.
The issue's celebrity guest, actress Ksenia Alferova, talks about her main preoccupations, the I am! foundation, as well as how she manages to keep love strong in a "seasoned" marriage and have the right atmosphere at home.
Also in this issue:
Events & people: concerts, festivals, films and new books; fitness expert Denis Semenikhin gives a man's take on what women should know about them;
Fashion & beauty: this month's trends, tips for a great vacation, and products with SPF protection for the face, body and hair;
Family & relationships: understanding when it is appropriate to interfere in other people's lives; how the experiences of our ancestors influence us today;
Home & interior: gardening needs – the best tools for your yard and lawn; simple and attractive flower arrangements;
Health & fitness: recipes for delicious, low-calorie cocktails;
Recipes & cooking: healthy and light breakfasts for summer;
Travel: Cyprus – the perfect place to get away from it all.
Domashny Ochag is dedicating the year to its readers in celebration of its 20 years in Russia. The Heroine of our Time competition is still open, and participants stand a chance of winning prizes in five categories: Most Stylish, Super Mom, Success and Career, Good Deeds and Gifted Hands. Contestants are encouraged to write in about themselves, their talents, interests and achievements in any field. Find more information about the contest at www.goodhouse.ru.
The June issue of Domashny Ochag went on sale May 19. The electronic version of the magazine is available in the App Store and from Google Play.