Popular Mechanics in August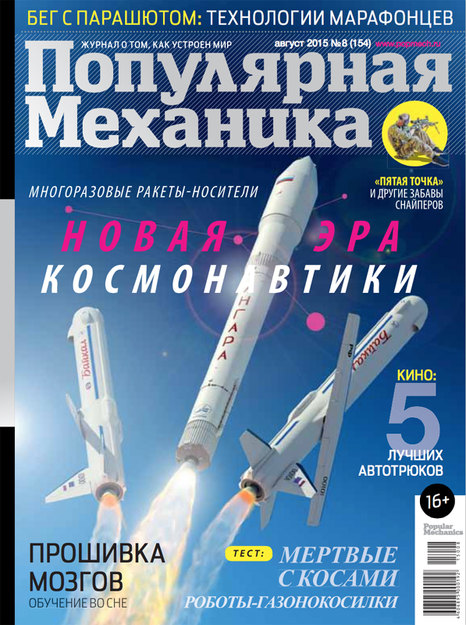 As the era of reusable manned spacecraft and winged landings comes to an end, the space industry is once again looking at reusable vehicles, only this time the focus is on using the early stages of missile systems. Learn more in the new issue of Popular Mechanics.
In the Science section, the article "On the Path to the Mielofon" is about Russian scientists who are developing a working prototype of magnetic sensors that will one day learn to read minds. In Technology, "The Brain and Nerves of the Airliner of the Future" focuses on the first flight of the MS-21, the medium-range aircraft built to compete with the Boeing 737 and Airbus A320, scheduled for launch in mid-2016.
In "Blow Crossbow" in the Weapons section, the magazine's editors join the Russian crossbow team to test a weapon that has no equivalent anywhere in the world, let alone a name that fully describes it. In Adrenaline, "The Running Sect" looks at how hobbies can become lifelong pursuits.
In this issue:
Download to the Brain: Is it possible to flash the brain?
The Mechanics of Sleep: somnology is a science that attempts to unravel the mysteries of the kingdom of Morpheus;
House in a Parallel Universe: What is informational design and how can you use it?
Inside a Microscopic Tube: examine the inner workings and parts of a modern smartphone;
Real Drive: the five best automobile stunts in movies;
Whistling & Whispering: the world's first electric racing car championship is held on the streets of Moscow;
Surgical Snipers: Popular Mechanics reports on a police sniper competition.
The magazine went on sale July 21. You can also download Popular Mechanics from the App Store or Google Play.