Popular Mechanics in September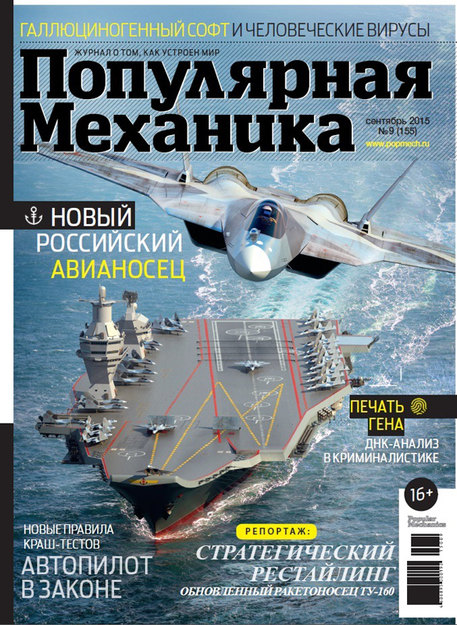 Also, details about the Russian Navy's plans to build a new, ultra-modern destroyer and aircraft carrier.
The Science column includes "The Feeling of Attraction," a story about creatures that are able to perceive a more complete picture of physical reality thanks to their spatial orientation in the Earth's magnetic field. In Technology, "The Art of Digital Fantasy" looks at artificial neuron networks and how they work. The article "Blade in the Stratosphere" in the Weapons section reports that Russia will soon resume production on the Tu-160, the country's most technically advanced strategic bomber.
In the article "I Like Flooring It" in the Adrenaline section, renowned racecar driver Mikhail Ukhov invited PM editors to spend a day at the racetrack and explained to them why they needn't fear completely indulging their thirst for speed.
In this issue:
Calm Your Nerves with electricity: electric shock in home medicine;
In-Gene-Ious: the methods used to produce a person's genetic portrait;
High Energy: the new look and design of overhead power lines;
To the Point: the rules and finer points of fencing;
Fast track to the future: automobiles will soon become much smarter and safer.
The magazine went on sale August 25. Download the digital version from the App Store or Google Play.