Cosmopolitan Live Festival Sees 30,000 Visitors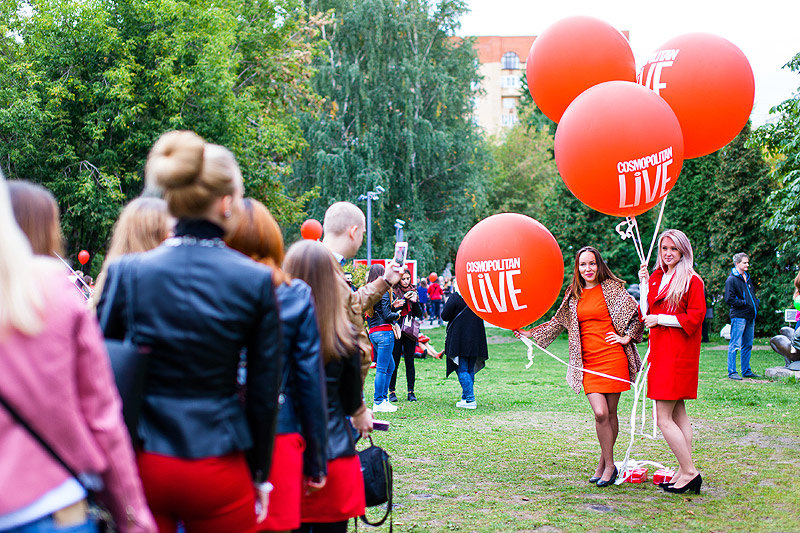 More than 30,000 guests attended the open-air Cosmopolitan Live festival on September 12, at the Muzeon Art Park in Moscow, where they were plunged into the world of Cosmo and became Fun Fearless Females, following the magazine's worldwide motto.
The festival included interactive zones following the magazine's most popular sections: Fashion, Beauty, You and He, Stars, Health and Fitness, Career and Psychology, Leisure and Travel, and Personal Development. Cosmopolitan prepared lots of surprises and gifts for its readers, who also posed for photos with a giant cover mock-up, participated in a range of workshops and visited free beauty bars.
In the themed areas, young women listened to talks by celebrities, experts, fashion bloggers, and Cosmopolitan editors, took part in floral and make-up workshops, shadow theater and dance shows, explored the "Avenue of the Stars," and posed in a Hollywood photo session. They also took lessons in flirting and seduction, took part in a contest for a free trip to Vienna, played Robo Wedding, made studio-quality audio recordings for their special man and much more. Many posed for photos with interesting art objects and life-size cutouts of their favorite Hollywood stars – personalities readers voted for on the Cosmo.ru site.
Throughout the day, Cosmopolitan editor-in-chief Polina Sokhranova and masters of ceremony Ivan Chuikov and Olga Mazhara raffled away prizes. All of the young women who followed the festival's "Red & Sexy" dress code received prizes. Russian celebrities also treated guests to a rousing concert at the end of the evening. The performers included Yolka, the Pizza group, Elena Temnikova, drummers Vasiliev Groove, vocal virtuosos Jukebox Trio, Vlad Sokolovsky, Guru Groove Foundation, and Yulianna Karaulova.
At the close of the festival, everyone made a wish and then joined Yolka in singing "On a Big Hot Air Balloon" as 1,000 red balloons soared into the sky.
Read more about the festival on the official website at cosmo.ru/cosmolive.