Harper's Bazaar Art Releases New Issue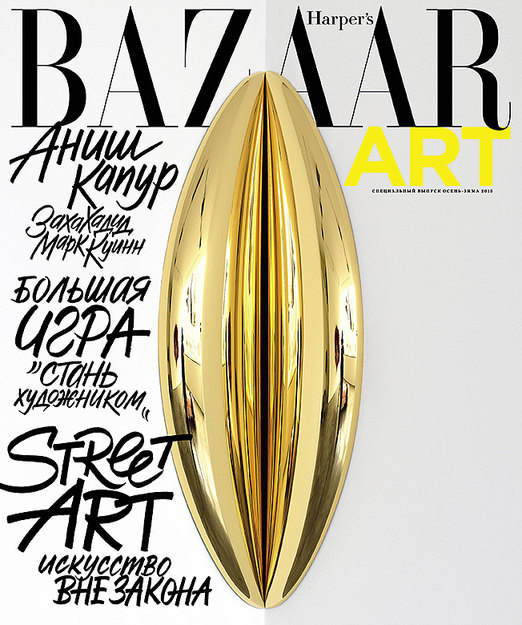 November 10 marks the release of the fall-winter issue of Harper's Bazaar Art devoted to street art. Readers will find a new Banksy Dismaland project featuring the work of Russia's top street artists – Nikita Nomerz, Misha Most, Timofei Radya, Stas Dobry, Artem Filatov, Pasha 183 – as well as top-selling auction and display items from the Street Art Museum of Saint Petersburg.
Also in this issue:
The Motherland is calling. Anish Kapoor on art, tolerance and sex. At the opening of his exhibition "My Red Homeland," Kapoor told Harper's Bazaar Art why he finds it frightening to be called a modern artist and explains what is depicted on this month's magazine cover.
Riding the waves. On the eve of the opening of his first building in Moscow, Zakha Khadid spoke about male rivalry, capricious clients and a form of freedom that can be bought.
City and myth. If there exists a mythical capital of art that any aspiring artist, sculptor or curator would love to live in, that city is New York. Harper's Bazaar Art features three women who not only came to that city, but conquered it, gaining legend status in the process. Find articles about artist Mary Heilmann, curator Rouzli Goldberg and sculptor Teresita Fernandez.
The transmigration of souls. Curator Florence Müller of Esprit Dior in Seoul. Six Korean artists express the spirit of the French house in their works.
Muses. Stylish copies of renowned Pablo Picasso portraits in a Harper's Bazaar "cubist" photo shoot devoted to the great Spaniard.
White threads. Embroidery and contemporary art are actually two compatible things. Masterpieces of jewelry in a Mary Arendt art project.
Brave new world. Constructivist architects have dreamed of creating a new type of man, and now the same idea is exciting the minds of designers. The best proof of this comes from a photo shoot of retro-futuristic hits from the fall-winter collections in the ZIL Palace of Culture.
Art marathon. Have you always wanted to know how to succeed in the world of cut-throat curators and merciless art critics? If so, then you'll enjoy the new board game "Be an artist" that artist Viktoria Marchenkova created especially for this issue.
Revolt of the masses. Crowdfunding is changing the art world.
A handle on the situation. Young and talented owners of Moscow galleries are pulling out all the stops in opening new venues and hatching ambitious plans.
A big difference. Whitney Museum director Adam Weinberg and Max Mara chairman Luigi Maramotti explain how the Renzo Piano project is broadening the traditional horizons of contemporary art.
Temporary measures. Gucci Creative Director Alessandro Michele stages No Longer: Not Yet, an exhibition in Shanghai on time and modernity.
New names. Works by Ilya Fedotov-Fedorov border between art and science experiments.
Statue of liberty. Russian artist and sculptor Igor Shelkovsky on Parisian exhibitions of underground artists, the A-Ya magazine on modern art in the Soviet Union, the treasures he discovered in the vaults of the Tretyakov Gallery and why "bigger" is always "better" for sculptors.
Finds. Harper's Bazaar Art editors add to the growing list of hotels where guests will find stunning beauty, even without leaving their rooms.
Journal. A guide to this season's main exhibitions and premieres.
Harper's Bazaar Art – a new look at fashionable art.