Popular Mechanics in March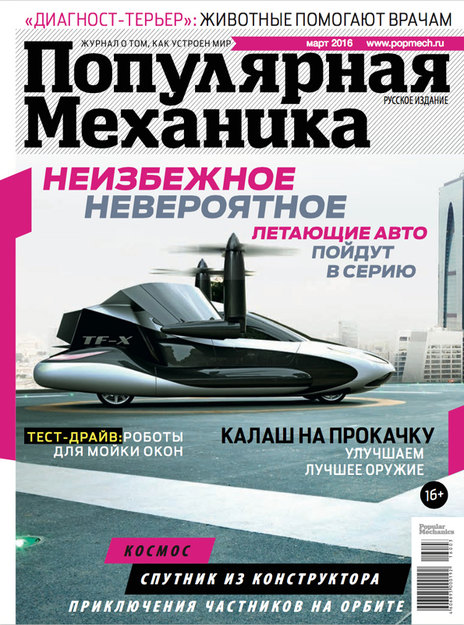 The new issue of Popular Mechanics magazine looks at the Terrafugia TF-X car, which is still in the concept stage but might be put into production within the next eight years.
In the Science section, the article "Lab Animals" looks at the possibility of a whole cadre of shaggy, winged and other non-human lab technicians that might one day appear in medical clinics and hospitals. In the Technology section, "PM Scouts the Oscars" reveals the secrets to winning the Technical Achievement Award.
In the Weapons section, "Tweaking the Kalashnikov" look at how to improve a classic. In the Adrenaline section, find the "Sailing Wings" looks at how hydrofoil catamarans have burst onto the stage of competitive sailing.
Also in this issue:
Return from the Grave: How genetics technologies are giving extinct animals a second chance;
A Study in Dark Tones: The mystery substance that makes up 95% of the matter in our universe;
The Story of a Lone Satellite: The adventures of privately owned satellites;
Riding a Whirlwind: The ultra-light Perlan 2 aircraft;
Test Drive: Robotic window washers.
The new issue went on sale February 23. The digital version of the magazine is available from the App Store and Google Play.