Popular Mechanics in April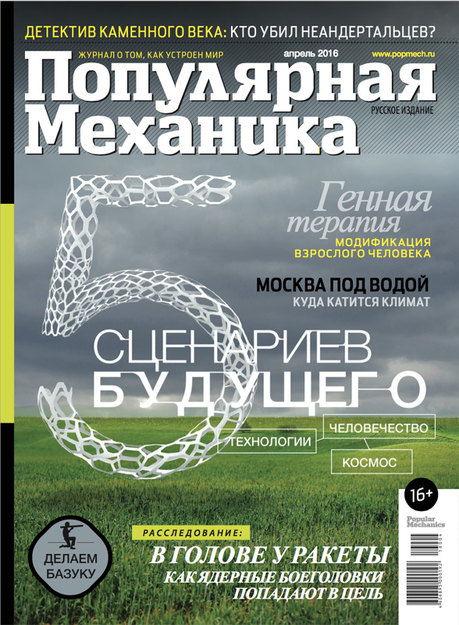 The new issue of Popular Mechanics magazine includes the special article "Five Scenarios of the Future," which predicts the future the same we analyze historical data that is often contradictory – by comparing, extrapolating, looking for causal connections and using our imagination.
In the Science section, read "Fairy Tales for Robots" about why some U.S. researchers believe we can teach computers what it means to be human in the same way we teach children. In Technology, the article "Stone Age Detectives" follows "paleo-sleuths" – anthropologists who study the distant past, a far more daunting task than investigating an ordinary crime. They struggle with riddles that would make a modern-day detective's head spin and search for clues that have long since been lost to antiquity.
Readers will also learn how to build a toy grenade launcher in the Workshop column. A play bazooka is the perfect gift for a do-it-yourselfer, and the article will explain how you can easily build one using scrap materials and everyday items.
Also in this issue:
The Morning After: Can modern medicine create a remedy for the hangover?
Davy Jones' Locker: Mining companies "descend" to the ocean floor;
Russia in Deep Water: Is it time to prepare for a climatic apocalypse?
Shooting for the Stars: These days, anyone can launch their own satellite into space;
Black Flowers, Smoking Fingers: How to determine if someone would make a good PM editor;
In Search of the Killer Kilt: Feel like a Scot;
Space Bus: The anatomy of a ballistic missile;
Pipe Fliers: A place where people can fly like birds.
The magazine went on sale March 22. The electronic version of the magazine can be downloaded from the App Store and Google Play.
P.S.: Pay close attention this month for the April Fool's article!