Harper's Bazaar Hosts Anniversary Dinner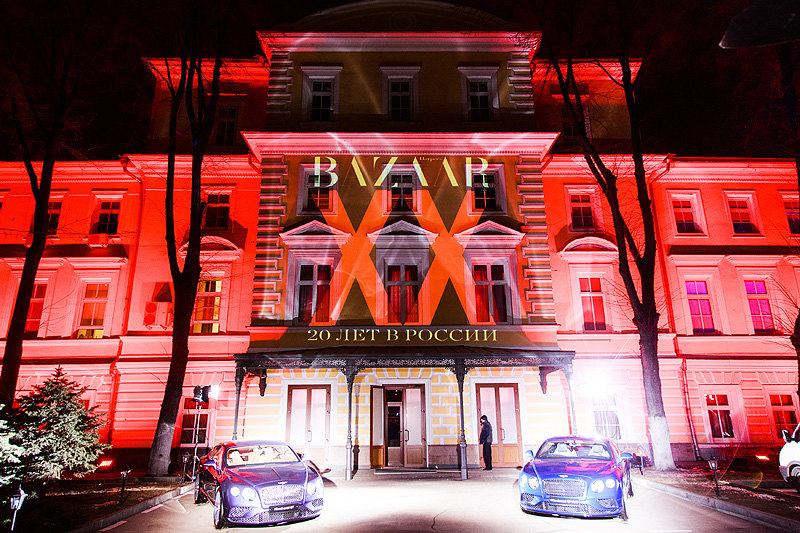 On March 24 Harper's Bazaar held its anniversary dinner at the historic mansion on Volkhonka celebrating 20 years in Russia. Special guests included Harper's Bazaar international fashion director Carine Roitfeld, Alexander Vreeland, grandson of cult fashion columnist and editor Diana Vreeland, singer and model Caroline Vreeland and Italian neon artist Massimo Uberti.
The red carpet leading to the doors of the Volkhanka mansion served as the starting point for all the evening's events. Bentley served as general partner to the event and the celebrity guests posed for photographs against the background of the automaker's luxury cars. Ascending the staircase adorned with the Roman numerals "XX," guests arrived to a large chamber, the venue for the main part of the dinner, organized with support from luxury watchmaker and jeweler Roger Dubuis. There they could sample Diana Vreeland fragrances presented by Alexander Vreeland and enjoy black Gorka caviar while pianist Nikola Melnikov performed his own compositions onstage.
Harper's Bazaar editor-in-chief Daria Veledeeva delivered the opening remarks and then showed guests a video clip highlighting 20 covers made by renowned designers especially for the magazine's anniversary issue. The dinner featured gastronomic creations by Metropol Hotel executive chef Andrei Shmakov.
During a break in dancing to the songs of musicians from the Romen Theater, Derk Sauer, founder of Independent Media and the man who first began publishing the Russian edition of Harper's Bazaar, took to the stage. The culmination of the evening came when Caroline Vreeland teamed up with Nikola Melnikov to perform a medley of hits, including "Love Lockdown" by Kanye West. Guests continued to revel in the festive atmosphere until midnight.