Harper's Bazaar Organizes Public Talk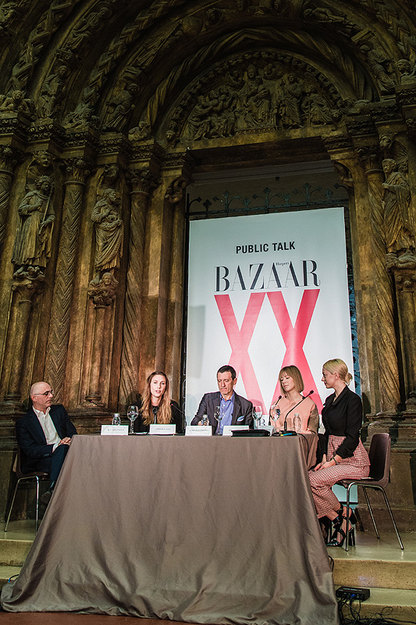 A public talk focusing on the 20th anniversary of the Russian edition of Harper's Bazaar magazine was held at the Pushkin Museum of Fine Arts in Moscow on March 24. Journalists, fashion insiders and friends of the magazine gathered to take part in a discussion about culture, art and the magazine's motto, "fashion without rules."
The guests seated at a table in the museum's Italian courtyard included Alexander and Caroline Vreeland, the grandson and great-granddaughter of Diana Vreeland, as well as Italian artist Massimo Uberti, designer Vika Gazinskaya and Harper's Bazaar editor-in-chief Daria Veledeeva, who moderated the discussion.
The event began with a viewing of clips from the film "The Eye Must Travel," about the invaluable contribution Diana Vreeland made to the development of Harper's Bazaar. Speakers touched on a number of subjects, including Vreeland's legacy, Russian fashion and the influence of modern technology on the arts. The discussion was broadcast online.
A number of fashion industry representatives, including Natalia Turovnikova, Yasmina Muratovich, Mari Koberidze, Yevgenia Linovich and others participated, enjoying the conversation, a delicious breakfast and complimentary Seryab water.