Esquire Hosts Literary Breakfasts at Coffeemania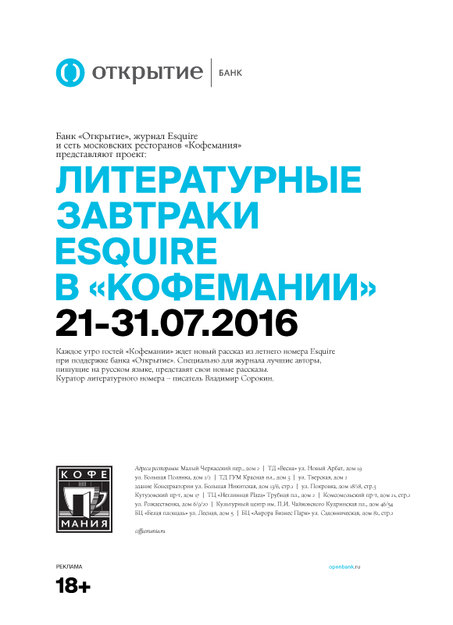 This summer, following tradition, Esquire is again releasing a special issue of the magazine devoted to literature. This time, literary critic Galina Yuzefovich is serving as guest editor and author Vladimir Sorokin is the curator.
Esquire is famous for publishing stories by the world's most interesting authors, from Stephen King and Thomas Pierce to Jim Shepard and David Sedaris. With this special issue, readers will be acquainted with the best authors writing in Russian. Curator Vladimir Sorokin has set the theme for the special literary issue and selected the authors who are featured. The magazine takes the form of an almanac of unpublished stories and will surely take its rightful place on the shelf alongside other books.
Esquire is promoting the summer literary issue in cooperation with Otkritie Bank and a series of Literary Breakfasts at Coffeemania restaurants.
From July 21 to 31, Coffeemania breakfast patrons will receive an exclusive new story from the literary issue of Esquire. Each story appears as a booklet bearing the same style and format as the restaurant menu. It will also announce the next story in the series and the literary issue of Esquire in general.
Esquire will bring together its business partners on July 28 at the Grand Coffeemania restaurant for a Literary Breakfast and the launch of the special issue.
Otkritie Bank serves as partner to the project.