Popular Mechanics in August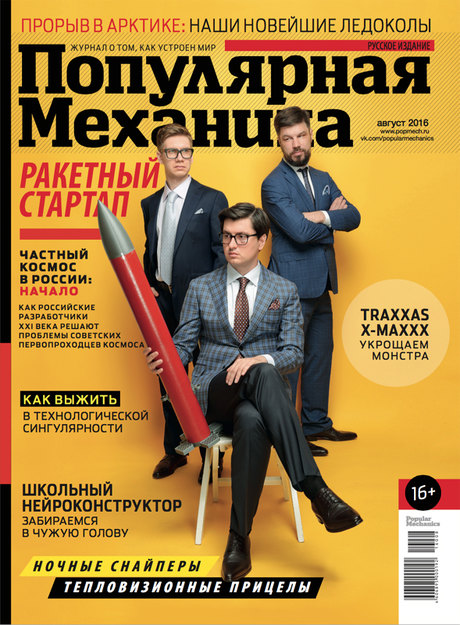 Russia's first private rocket builders are following in the footsteps of the Soviet space program's pioneers. According to the most optimistic estimates, the Tamir prototype could launch as early as 2018, with the first full ascent into orbit slated for the 2020s. This issue includes an interview with the developers.
In the Science section, readers can find out about the concept of singularity, which refers to anything that defies description by words, theories or formulae, in "The Unimaginable." The Technology section includes the article "Time Can Break Ice" that looks at renovations to the fleet of icebreakers – evidence of Russia's renewed interest in the Arctic.
The "Midnight Gunner" article in the Weapons section follows the development of night-vision goggles (NVG), first used in World War II, to the increasing use of thermal images today. In the eSports section, the article "The Biggest of Them All" is about Traxxas, the most advanced simulated monster.
Also in this issue:
The Dark Side of Astronomy: The rapid development of infrared astronomy, which only recently came to the forefront of space science;
How to Move a Lighthouse: a group of U.S. engineers challenging the forces of nature;
Shockproof Profession: watches for men of steel;
Family Sport: an SUV for dads with lots of kids.
The magazine will go on sale July 19. Download the electronic version from the App Store or Google Play.