Popular Mechanics in September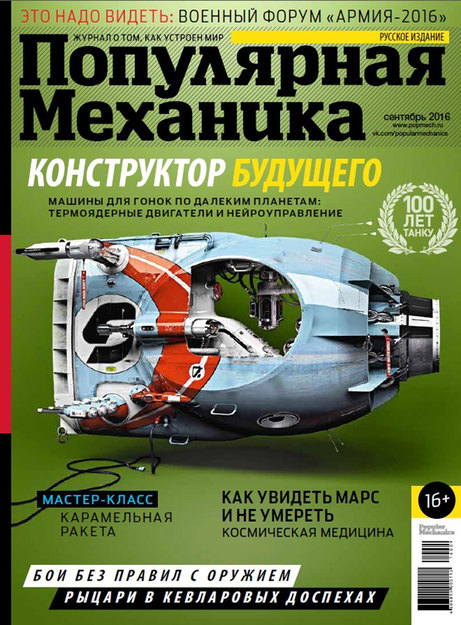 Starting with its September issue, Popular Mechanics magazine will appear in a new format. Inside, readers will find new columns, a bold visual design, the best Russian writers and interviews with the country's leading experts on a variety of topics.
The cover story this month looks at the future of transportation: images and descriptions of the next generation of vehicles appear in numerous popular science magazines and websites, but readers generally find only slick computer-generated images. Only rarely do they catch a glimpse of the future as it will look in actual metal and concrete. To find out what the future holds, PM editors journeyed to Minsk, where engineers are building a mock-up demo of string transport. They also spoke with automobile designer and futurist Daniel Simon, whose work we encounter in everyday life and in Hollywood science fiction films depicting car races on distant planets.
In the Science section, PM editors ask scientists whether there is a "cure" for love in "The Anti-Love Pill." In the Technology section, find "On the Wings of Dreams," a story about gliders – the most romantic of all forms of transportation.
Read the article "100 Years of the Tank" in the Weapons section. Exactly 100 years ago in the Battle of the Somme, tanks crawled through craters and trenches for the first time, which marked the beginning of a new form of warfare. In the Workshop section, Andrei Suvorov, the chief designer for Russia's leading private rocket-building company, Lin Industrial, explains how to make an affordable, safe and efficient home rocket engine powered by caramel fuel.
In the Disassembly section, PM engineers dismantle an Airwheel X8 to understand how this compact device can move a person around the city with remarkable ease. Asya Kuznetsova also writes a special column about experimental studies in human behavior.
Also in this issue:
Mass Shooting: rules of survival;
Speed as a Way of Life: speed records on land, air, and water;
Fights with Weapons, but no rules;
The Gold Standard of Science: interviews with the coaches of Russia's national physics and mathematics teams;
A View from Tula: Russia's new weapons;
Actor with a Hockey Stick: Andrei Burkovsky;
How to Conquer Mars and Survive: space medicine;
Gotta See It: the Russian Army 2016 forum.
The September issue went on sale August 23. The electronic version of the magazine is available for download from the App Store and Google Play.