Cosmopolitan in September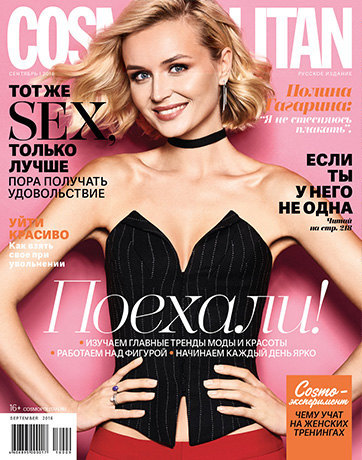 The September issue of Cosmopolitan magazine looks at this fall's main fashion and beauty trends, and helps readers manage their figures, start off every day right, and combine colors to cheer up themselves and others.
This month's cover features singer Polina Gagarina, who told Cosmo all about her new album and her purpose in life.
Also in this issue:
This fall's main colors in accessories, jewelry and shoes;
Successful women on how to make the most of your morning;
In a single stroke: pros help you select the right brush;
How to avoid falling in love after making love;
How to inspire a man to great feats;
Internet safety rules;
The success story of CTC Media's general producer;
Secrets for skincare around the eyes: the most popular masks and how to apply them;
Skin rejuvenation after sun exposure;
Cosmopolitan chief editor Polina Sokhranova explores India;
The treasures of Azerbaijan: ancient alleyways and modern skyscrapers.
Commercials supporting the issue's release will appear on the CTC, Muz TV and Ru TV channels, and on the EuropaPlus, Energy and Love Radio radio stations.
The magazine went on sale August 16. Mobile and iPad versions of the magazine are also available.