Popular Mechanics in October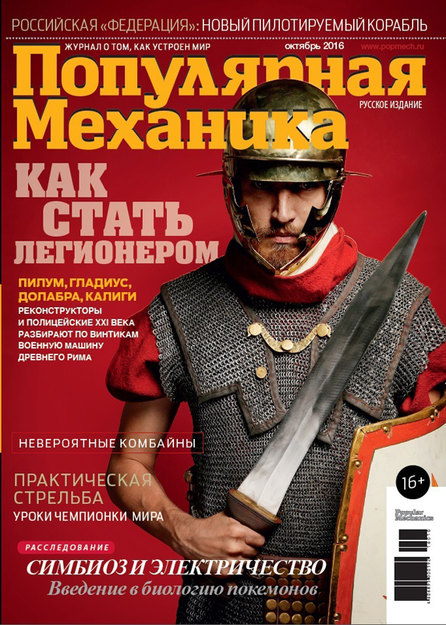 The October issue of Popular Mechanics magazine includes the article "How to Become a Legionnaire" in which historical reenactment specialists and police examine the nuts and bolts of the ancient Roman war machine.
In the Science section, the article "A Parallel Humanity" looks at the history of missed chances. In the distant past, beings that were possibly even more intelligent than our own ancestors once inhabited the world – except that they missed their chance.
In the Technology section, the "The Russian 'Federation'" explores if a next-generation Russian-piloted spacecraft will find its way into deep space. In the Workshop column, learn how to build a telescope. In Adrenaline, find practical archery lessons by Maria Gushchina, seven-time champion of Russia, European champion and two-time world champion.
Also, find a special report on the making of Pokémon Go, and find out why the game has so many fans and enemies.
In this issue:
Hooligans Improve Eyesight: how bio-hackers are improving human vision;
The Cat Burglar's Secret: learn to open locks without using keys;
Kibatlon-o-Mania: a contest not only for cyborgs, but also for bionic technologies;
Recognition at First Glance: How Russian scientists created one of the best facial recognition systems;
Amazing Harvesters: a test drive of the enormous RSM 161.
The issue went on sale September 20. Download the electronic version from the App Store or Google Play.