Harper's Bazaar in October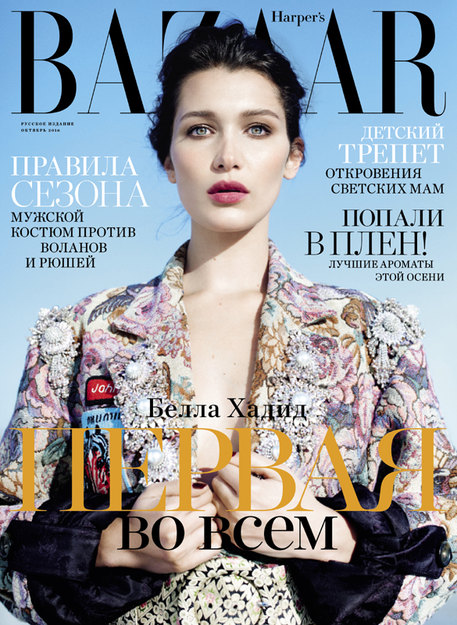 Model Bella Hadid graces the cover of the October issue of Harper's Bazaar magazine.
In this issue:
Ciao, Bella!: The year's most popular model in a Harper's Bazaar photo shoot.
Seven Brave Ones: Actress Lea Seydoux and perfumer Jacques Cavallier-Belletrud on the magnificent seven aromas from Les Parfums Louis Vuitton.
On the Dark Side: Gothic black lace, see-through chiffon and other notes of the Autumn Nocturne.
Package of Proposals: Five famous designers hide their faces and bare their souls.
Big Moves: A major sea change in the Dior cruise collection.
Tricky Combo: A puzzle of the most sought-after accessories this season.
Poet's Dream: Actress Chulpan Khamatova speaks about poetry at the Territoriya festival.
Role Playing: Tweed, plaid and other elements of men's style that can accentuate femininity.
Treasure Island: The new life of New Holland.
California Dreamin': Forever young heroes of the '60s in the show "Hotel California."
The issue went on sale September 20. Mobile and iPad versions of the magazine are also available.
Harper's Bazaar – fashion without rules!