Harper's Bazaar in November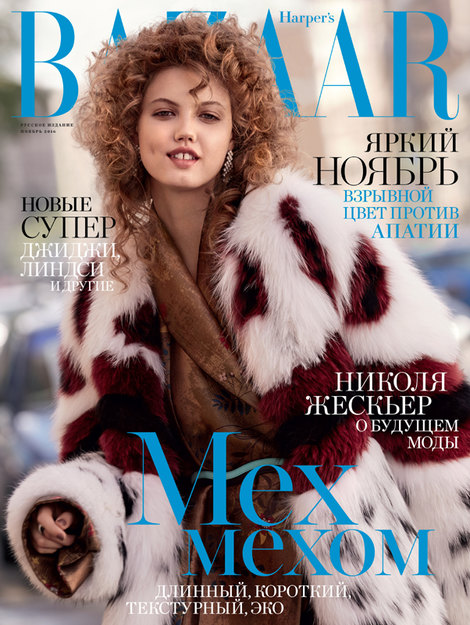 Model Lindsey Wixson appears on the cover of the November issue of Harper's Bazaar magazine.
In this issue:
Fur for Life: Silvia Venturini Fendi on the past and future of the fashion house.
Marc-o-Madness: The duo of Marc Jacobs and artist Tabboo!
Hot-Tempered: Fur in screaming shades of color in a Harper's Bazaar photo shoot.
Carl in a Cube: A cruise-themed fashion show by Chanel on Liberty Island.
Second Time's a Charm: Actor Pyotr Fedorov on his recent work in film.
Plus Four: New cosmetic products that deserve special attention.
Greenhouse Effect: A demonstration of how flowers are blooming on fall dresses, coats and jackets.
The End of the Parade: The Dior couture collection – treasures that require no explanation.
Play Acting "Black Russians": Artem Tkachenko and Yulia Loboda with Calvin Klein Jeans.
Nikolai Says: Daria Veledeyeva interviews Nikolas Gheskiere.
Gifted: The Potanin Foundation's gifts to the Centre Pompidou, and the exhibition organized in honor of the event.
Overseas: An Italian woman's adventures in the Wild West in the new Fay collection.
'S' for 'Sonya': What will Sonya Rykiel be remembered for other than striped sweaters and red hair?
Details: 24 hours in the life of Gigi Hadid.
Flash! The hottest parties according to Harper's Bazaar.
The magazine went on sale October 25.