Cosmopolitan Beauty Awards 2016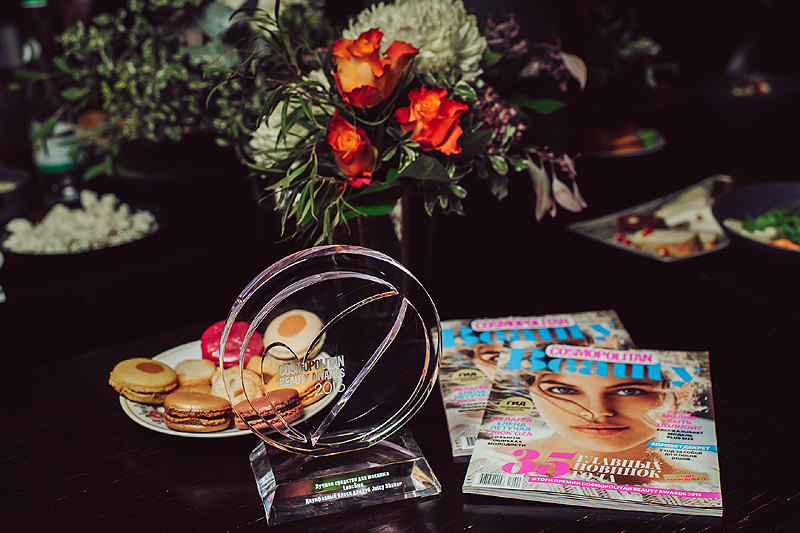 Cosmopolitan has announced the winners of its annual Cosmopolitan Beauty Awards, presented every year for the past 13 years to the best new cosmetics products. The ceremony took place on October 20 in the Moscow restaurant Kazbek.
Cosmopolitan Beauty Awards are the Russian equivalent of the awards presented by the U.S. editions of Cosmopolitan and Cosmopolitan Beauty magazines to the most interesting new cosmetic, beauty and perfume products of the year. The awards help readers navigate among the hundreds of new cosmetic products that appear on the market each year.
This year the awards were presented to 35 different products representing five types of substances in seven categories: facial care, makeup, body care, hair care, women's fragrances, and men's fragrances. The jury included editors from Cosmopolitan and Cosmopolitan Beauty magazines, and celebrities like Elena Letuchaya, Olga Shelest, Pelageya, Glukoza, Olga Seryabkina and Oxana Lavrentyeva, professional experts and, of course, the magazine's readers who voted for their favorite products on Cosmo.ru.
Cosmopolitan Beauty editor-in-chief Yulia Lapshina hosted the awards ceremony, presenting each winner with a dazzling crystal statuette and an honorary certificate. The event brought together the award winners and celebrity guests Olga Shelest, Inna Malikova, Anastasia Grebenkina and Viktoria Smolyanitskaya. Timur Romashko of Comedy Radio served as master of ceremonies for the evening.
The Lid's Event House and Planeta Flora provided the floral decorations for the ceremony, and all guests received a gift from Sokolov jewelers and sweets from confectioner Confael.
The complete list of winners appears in the fall issue of Cosmopolitan Beauty magazine.