Independent Media, Burda Distribution Service Announce Collaboration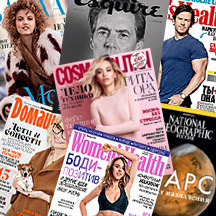 Independent Media and Burda Distribution Service have announced the formation of a strategic partnership by which the latter will distribute IM magazines from 1 December. The arrangement will increase the publishing house's market share in print media distribution, while also reducing its distribution costs.
"We are confident that our unified and consolidated efforts will have a positive impact on the sales volume of IM publications," IM executive director Elena Smetanina said. "Precedents of such practices elsewhere in the world have all produced positive results," Smetanina continued.
"We are pleased to partner with Independent Media, one of the largest publishing houses in Russia," Burda Distribution Service CEO Roman Doroshenko said. "This approach will enhance the efficiency of both the publishing house and the media distribution service while also lowering distribution costs," he added.
The agreement covers distribution of the Cosmopolitan and National Geographic groups of publications as well as the Harper's Bazaar, Domashny Ochag, Women's Health, Grazia, Men's Health, Esquire, Popular Mechanics, Robb Report Russia. The agreement does not cover The Moscow Times newspaper.