Popular Mechanics in December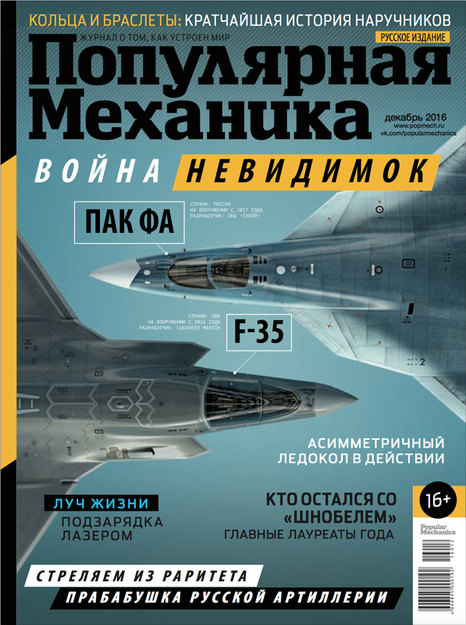 In the December issue of Popular Mechanics, read about the battle between stealth fighters – the Russian fifth-generation T-50 and the U.S. Raptor F22B, as well as Russia's new fifth-generation Advanced Frontline Tactical Air System fighter that will enter service in 2017.
In the Science section, "Between the Nobel and the Shnobel" examines the results of the 2016 Nobel Prize awards. In Technology, the article "The New Form of Forecasting" looks at how artificial intelligence is learning to predict the weather.
"Traditions of Progress" in the Automobile section is about manned space flight and its rituals and traditions over more than half a century of existence. In the Weapons section, "Straight Shooter" argues that it is too early to write off the legendary Dragunov sniper rifle as it is still in fine shooting form.
In the Adrenaline section, "A Perfect Shot" is about how sporting fans can hone their skills with unique laser targets made by Russian enthusiasts.
In this issue:
New Elements in the Periodic Table: Muscovy, Oganesson, and more;
A Spectrum of Spectra: electromagnetic radiation is all around us;
To Kiln For: how Swiss enamel clock faces are manufactured;
Chained: a super short history of handcuffs;
Ray of Life: transferring energy by laser;
Wooden Skyscrapers: the "urban jungles" of the future could once again be made of wood;
The Great-Grandmother of Russian Artillery: Peter's regimental cannon.
The issue went on sale November 22. An electronic version of the magazine is available for download from the App Store and Google Play.