Independent Media to Participate in National Advertising Forum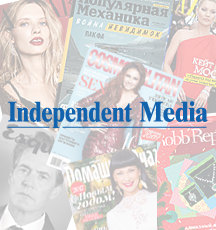 The Independent Media publishing house will take part in the first National Advertising Forum at the Hotel Olympic Moscow's Azimut Congress Center on December 7-8. The event will bring together 3,000 media professionals and 200 media experts, who will analyze the year's advertising market performance and determine the optimal development path for the development of each segment for 2017-2018.
A major Press Summit on December 8 will explore areas in print media that can be developed further, with eminent media experts, government officials and representatives of major publishing houses discussing the state of the Russian print industry. In addition to Independent Media, publishing houses like Condé Nast Russia, Hearst Shkulev Media, Burda Media Company, Bauer Media, Kommersant, and others will take part in the event.
The press summit will include a survey of the Russian and foreign print media markets. Ruslan Tagiev, CEO of Mediascope (formerly TNS Russia), will present the first report of the findings of an ad-hoc TNS Russia study into the effectiveness of print publications as an advertising medium. Experts will discuss issues of media consumption as well as working strategies and conditions during economic crises. Participants will also examine the world's best case studies on these issues.
Harper's Bazaar editor-in-chief Daria Veledeeva, Cosmopolitan editor-in-chief Polina Sokhranova, and Grazia editorial director Alyona Peneva will take part in a panel discussion on the role of glossy magazines in brand-building for advertisers. L'Officiel magazine editor-in-chief Ksenia Sobchak will moderate the event.
The Press Summit is organized in conjunction with the ABC circulation audit bureau and the HIPD Guild of Press Publishers.