Harper's Bazaar in March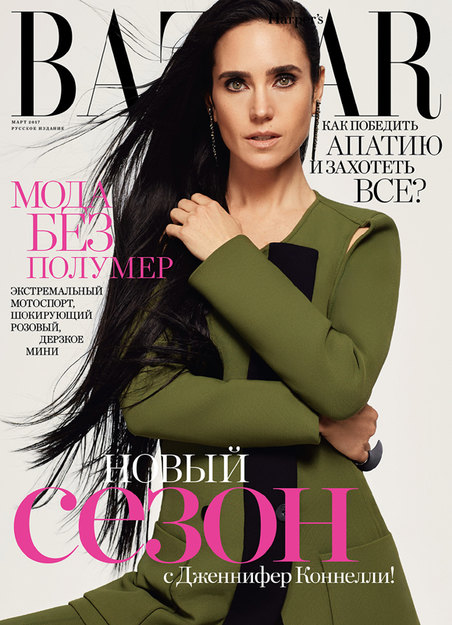 Actress Jennifer Connelly appears on the cover of the March issue of Harper's Bazaar magazine.
In this issue:
Portrait of a Lady: The muse of designer Nicolas Ghesquière – actress Jennifer Connelly – as seen through the lens of photographer Michael Avedon.
Carine on Collections: A new dimension – The current season through the eyes of Carine Roitfeld.
Armed and Dangerous: The most coveted accessories this spring.
Home Alone: Shake off those Victorian blues.
Six Brave Souls: Female editors of Harper's Bazaar who changed the history of glossy publications.
Close Encounters: The protagonists of the immersive play "The Returning."
Word & Deed: Fashion vocabulary in the statements of great designers and looks from this spring's collections.
What about Tomorrow? Fashion predictions by renowned futurist Jean-Christophe Bonis.
Gentle John: John Galliano at the helm of Maison Martin Margiela.
Even Her Nails are Beautiful: Russia's greatest silver screen beauty, Anna Chipovskaya.
The Range of Emotions: All the shades of gray, gold, and pink.
Waiting 3 Years for the Promised Event: The Triennale of Contemporary Art.
Journal: A guide to cultural events in March.
Flash: The hottest parties according to Harper's Bazaar.
The issue went on sale February 21.