Harper's Bazaar in April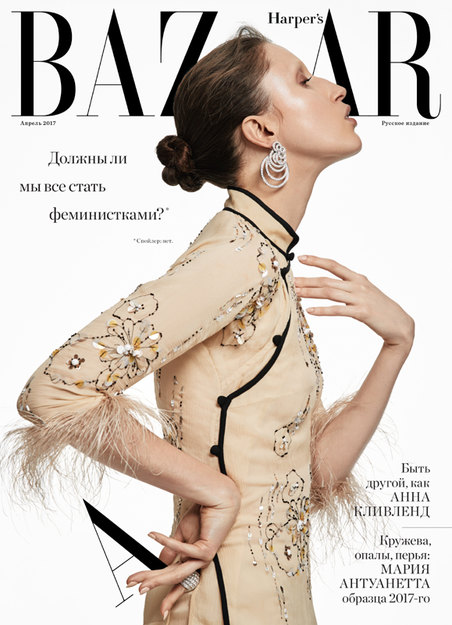 Model Anna Cleveland stars on the cover of the April issue of Harper's Bazaar magazine.
In this issue:
Role Model: Cover girl Anna Cleveland talks about the eclecticism of fashion and self-expression on the podium and in Instagram.
First Persons: Models on the pages of Harper's Bazaar from 1888 to the present.
Alone in the House: Harper's Bazaar editor-in-chief Daria Veledeeva interviews Valentino House of Fashion creative director Pierpaolo Piccioli.
There Stood a House: The exhibition "House Style: Five Centuries of Chatsworth Fashion," which takes place in one of the most beautiful estates of England.
Who is the Authority Here? An "Audience" of Inna Churikova and Gleb Panfilov.
Abduction of the Shrew: A new bag from Chanel's Gabrielle.
Gone with the Wind: Flying skirts, knit tops, and jackets inspired by the elegant 1930s.
An Opal Hits the Mark: An interview with creative director Dior Joaillerie.
Rita's Love; Gymnast Margarita Mamun in the role of Intimissimi ambassador.
Mixed Messages: A spring mood in bold looks.
Her: Isabelle Huppert on suffering in the cinema and chemistry with the camera.
Passion Italian-Style: The sexiest looks from the Pinko spring-summer collection.
At the Top of his Voice: The main "anti-feminist" in glossies, Alexei Belyakov, talks about feminism in Russia.
Diary: A guide to cultural events in April.
Flash! The hottest parties according to Harper's Bazaar.
The issue went on sale March 21.