Popular Mechanics Celebrates 15th Anniversary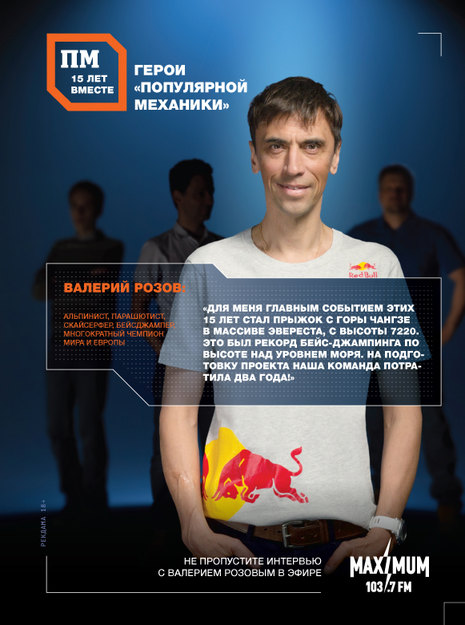 Popular Mechanics will go beyond the bounds of its print edition for its Heroes of Popular Mechanics anniversary project. Fans of the magazine will also be able to listen to interviews with the stars of science, technology, and sport, on Maximum Radio, which will be conducted by Popular Mechanics editor-in-chief Alexander Grek.
From April through November, commercials will announce the project and layouts with photos of the featured heroes will appear in Popular Mechanics, Maxim, Vokrug Sveta, and other magazines.
The Heroes of Popular Mechanics project focuses on true Russian stars in the fields of science, technology, and sport, and features outstanding figures such as multiple skydiving world champion, mountaineer, and base jumper Valery Rozov; Artyom Oganov, the chemist who popularizes science; legendary marksman and gunsmith Vlad Lobayev; space blogger Vitaly Yegorov; and other top professionals in their fields.
Commercials supporting the anniversary will run throughout the year on the Discovery, Moya Planeta (My Planet), and Nauka (Science) television channels, on the Serebryany Dozhd (Silver Rain), Maximum, Nashe Radio (Our Radio), Avtoradio (Car Radio), Business FM, and Energy FM radio stations, in print and online publications, and on social networks.