Cosmopolitan in June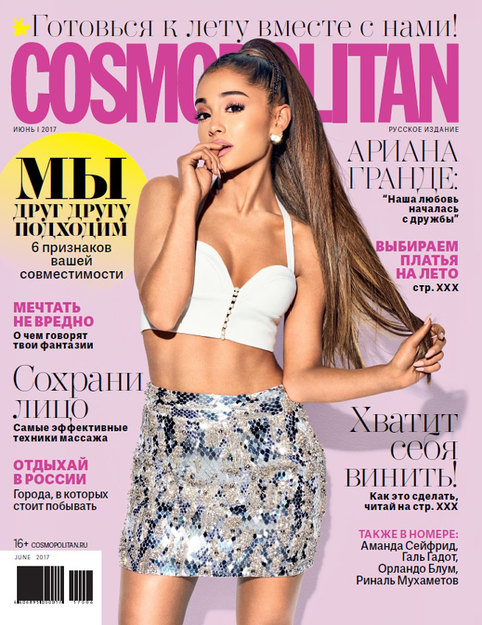 The June issue of Cosmopolitan magazine tells readers how to choose the right dress style, protect their skin from the scorching sun, and make their pedicures last longer. American actress and singer Ariana Grande appears on the cover. In an interview, she explains how to avoid losing yourself in a relationship and defends the right of women to wear miniskirts.
Also in this issue:
Star Wars: Celebrity quarrels and fights that have become public news;
Now Everything is Possible: Positive changes after 30;
Sexual Fantasies and What They Mean: bring the most daring ideas to life and reinvigorate your relationship;
Zeus Was Here: A holiday on Crete, an island enveloped in the most amazing myths and legends.
The Taste of Georgian Cuisine: Kazbek restaurant chef Mamia Dzhodzhua reveals the secrets of cooking khachapuri, satsivi, and shish kebab.
This issue also includes instructions on how to build your relationship with your mother, a list of beliefs that don't help your marriage, real stories of young women whose jobs found them, and useful articles to help you choose the right vacation.
The issue went on sale May 16. Mobile and iPad versions are also available.