Esquire Weekend Festival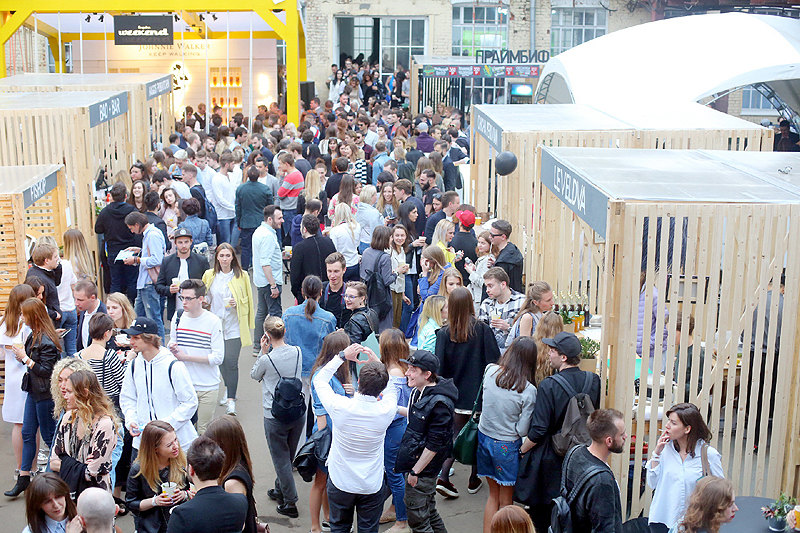 The first Esquire Weekend festival, with support from the Insigma group of companies, took place in a loft space on Bolshoi Ordynsky Pereulok in Moscow. The magazine brought its friends, business partners, and readers together for the event. Moving from one themed interactive zone to another, guests were acquainted with each of the magazine's main sections: The Rules of Life, Dialogues, Music, Masterpiece, and others.
In the Interview zone, guests spoke with editor-in-chief Sergei Minaev, and in the Dialogues zone they spoke with culture and media representatives, including Sergei Kapkov, Kirill Serebrennikov, Nikolai Uskov, and Sergei Evdokimov.
Director Talgat Batalov and the Sila Sveta creative studio organized the Rules of Life zone, where Moscow theater actors read out the best quotes from the iconic rubric of the magazine. In the Masterpiece zone, artist Dmitry Morozov presented the Electropollock robot that produces abstract paintings to music. Pianist and composer Kirill Rikhter, sound producer Anton Sevidov, and singer/DJ Ivan Dorn provided the musical entertainment.
The Hunger rubric was presented by Herve Kurt (Nobu), Vladimir Mukhin (White Rabbit Family), Timur Abuzyarov (Cevicheria), Maxim Livsi (Ferma Burger, Brisket BBQ), Vlada Lesnichenko (AQ Kitchen), and Ilya and Andrei Nitsenko (Prime Beef). At the festival's food market, Leveldva, Chicha, Bao+Bar, Huggis Pub & Kitchen, Fishop, Spanish Courtyard, Cheese Sommelier, and Injir restaurants presented their dishes.
About 3,000 people attended the Esquire Weekend event, including celebrities like Irina Gorbacheva, Pavel Artemyev, Ilya Bachurin, Dasha Malygina, Ilya Tyutenkov, Egor Piskunov, and Natalia Belonogova.