Harper's Bazaar in July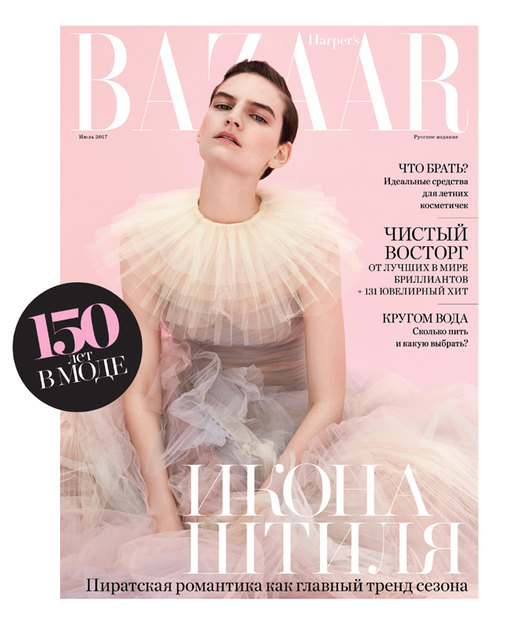 In the July issue of Harper's Bazaar magazine:
Wildly Calm – Piratical romance on the Maldives coast.
Crazy About Eli – Eli Saab professes his love for Russian women, and they reciprocate.
Dreams Come True – High fashion through the eyes of Christian Dior, Raf Simons, and Maria Grazia Chiuri.
Book of Records – The 10 most outstanding highlights from the 150-year history of Harper's Bazaar magazine.
Garden of Delight – Bright floral appliqués, wide pleats, and sparkling sequins.
Masha's Roman Holiday – Actress Maria (Masha) Shalayeva speaks about "Blockbuster," the new film by Roman Volobyov, and playing "adult" roles.
Finds – 24 hours in the life of jewelry designer Yana Raskovalova.
Out of the Shadows – The most coveted watches, bracelets, and rings.
Pure Delight – The world's best diamonds and 131 jewelry hits.
Pet Obsessions – The main hits of July through the eyes of Harper's Bazaar editors.
She'll Show Everyone – The new Sofia Coppola drama "The Beguiled."
Heaven & Earth – The best summer festivals, shows, films, and outdoor eateries.
Gathering at the Summit – Ekaterina Wagner on the 57th Venice Biennale of Contemporary Art.
Storm in a Glass – How much to drink and which one to choose – everything about water.
Utopia's Shore – The legendary Côte d'Azur hotel and its restaurant's head chef – the holder of 32 Michelin stars – in the Harper's Bazaar spotlight.
What's New? – The most interesting destinations and best ideas for the summer of 2017.
Flash! – A report from Harper's Bazaar's 150th anniversary celebration in New York City.
The issue went on sale June 20.