Harper's Bazaar in September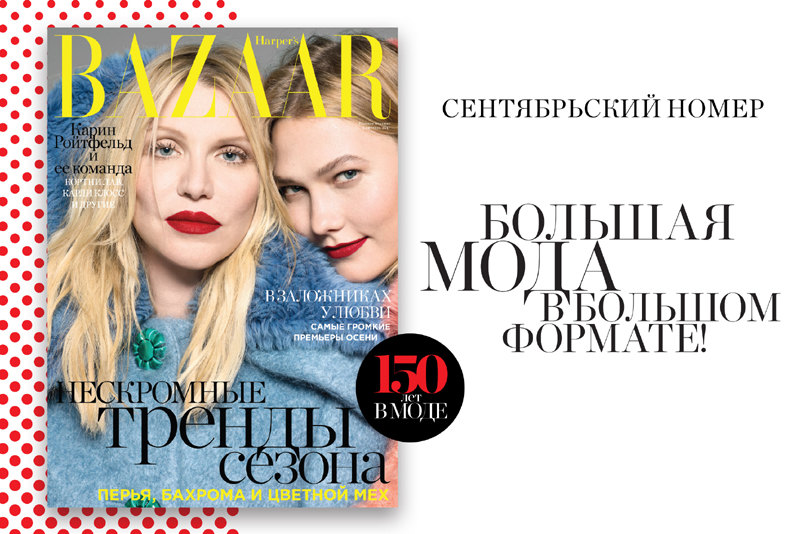 Following tradition, Harper's Bazaar has released its September issue in a large format. This month's cover features musician and actress Courtney Love and supermodel Karlie Kloss.
In this issue:
Icons Unplugged: Music and fashion come together in this season's best collections.
Indiscreet Trends of the Season: Feathers, tassels, and colored fur.
Higher Fashion: The most memorable images of the Paris Couture Week.
Dark Matter: This fall we play in black.
Open Cage: How a stodgy print feels in chilly street conditions.
City & Hero: Karl Lagerfeld confesses his love for the French capital.
Two is More Fun: Designer Alexander Terekhov and businesswoman Oxana Lavrentyeva on the first real anniversary of their brand and the distinctive elements of national proportions.
24 hours in the life of photo model Bella Hadid.
Starting the Season with a Clean Slate: Harper's Bazaar editors tested new dietary plans and selected the best.
Carine Roitfeld & Her Team: Courtney Love, Karlie Kloss, The Weekend and more.
Devoted gardener Alessandro Michele and his muse in an enchanted garden in the heart of New York.
The Harper's Bazaar house of models celebrates its 150th anniversary with a larger-than-life display on the façade of the Empire State Building.
Show Me Love: The creators of "About Love – For Adults Only" talk about their almanac.
Champions League: VTB Bank special programs service director Olga Myagkikh talks about her love for Russian designers, athletic successes, and the new life of Dynamo stadium.
Journal: A guide to cultural events in September.
The issue went on sale August 2.